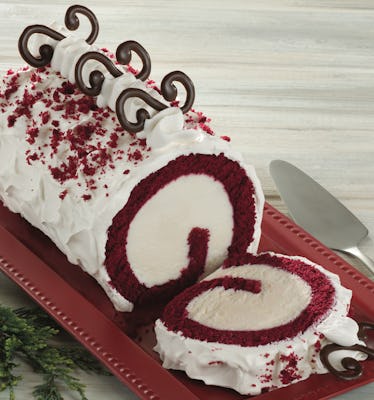 This Holiday Red Velvet Roll Cake From Baskin-Robbins Is All I Want For Christmas
Courtesy Of Baskin-Robbins
If you know me at all, you're probably well-aware of the fact that I love throwing a good old-fashioned holiday party, complete with champagne, mistletoe, and — most importantly — all of the wintery, festive food you could possibly imagine. But, after hours of perfecting a gorgeous spread of hors d'oeuvres, an entrée, and a plethora of side dishes, dessert tends to come as somewhat of an afterthought. This year, however, Baskin-Robbins' Red Velvet Roll Cake will definitely be joining my holiday lineup, for a sweet night of holiday festivities.
FYI my sweet tooth pals: Baskin-Robbins' new Red Velvet Roll Cake is a brand new addition to the chain's holiday lineup, and it looks like everything I could ever want. If you haven't already gotten to try it, the cake combines decadent red cocoa cake with tangy cream cheese-flavored ice cream. All of that is then sprinkled with a hefty portion of traditional Red Velvet cake crumbs, as well as festive chocolate swirls. You'll be able to snag one for yourself at participating U.S. locations and online. Just take a gander in the photo below — I swear you won't be able to resist ordering at least one for yourself.
Looks good, doesn't it?
Anyway, according to the press release, Baskin-Robbins has also released December's Flavor of the Month, which happens to be Caramel Cappuccino Cheesecake. It consists of tantalizing cheesecake and coffee-flavored ice cream, cappuccino toffee pieces, cheesecake pieces and — of course — salted caramel swirl. TBH I'm getting sweaty just thinking about it.
If that wasn't enough, Baskin-Robbins' seasonal holiday flavors are also back and better than ever, according to the press release. Chow down to the tune of all your favorite Christmas jingles with a scoop of Winter White Chocolate, some Eggnog, a little Peppermint, and maybe a cone of Mint Chocolate Chip. For all of you wild cats that eat ice cream past October, each and every one of these are definitely perfect for you.
In a press release, Carol Austin, the Vice President of Marketing for Baskin-Robbins, said their holiday lineup is sure to be a hit, and they can't wait to celebrate with Baskin-Robbins fans this year.
In the press release, Austin said:
We know how much our guests love the holiday season and we're excited to provide them with a festive lineup of sweet treats that they can enjoy while creating special moments with family and friends. And to help make this time of year even sweeter, we're offering special deals, including select cakes for $12.99 for guests to serve at holiday gatherings.
If you're looking to save a little cash this holiday season, though, make sure you get in on Baskin-Robbins' Celebrate 31 Promotion, which goes live on Dec. 31, according to the release. Guests will be able to snag a regular or kid's-sized scoop for only $1.50 at participating locations nationwide. You've probably gotten in on this deal before TBH, because the chain has offered this glorious discount in the past.
There's nothing better than a solid holiday-themed dessert, and IMO, Baskin-Robbins is nailing it this year. Not only is the Red Velvet Roll Cake a dream come true, but each and every ice cream flavor has seriously stolen my heart. I can pretty much guarantee you'll see each and every one of these on the dessert table at my holiday party this year.