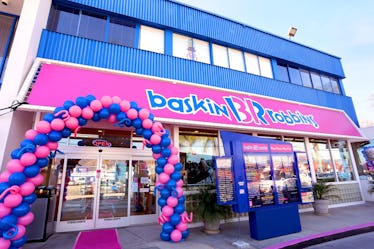 You Can Score $1.50 Scoops At Baskin-Robbins For Halloween, So Scream For Ice Cream
Rachel Murray/Getty Images Entertainment/Getty Images
In my opinion, ice cream has no season, and what better time to indulge in some frozen deliciousness when you're cozied up next to a fire and wearing a cozy sweater? In case you needed reminding that ice cream is a treat that should be enjoyed year-round, pool season and sun-kissed skin completely optional, Baskin-Robbins' Halloween special gets you $1.50 scoops that'll have you stocking up on the bone-chillingly good savings. The ice cream masters have been brewing up a handful of sweet confections for the spookiest time of the year, and you won't want to miss out on the scary-good savings all month long.
As you may know, Baskin-Robbins has been keeping up with the changing leaves with some changing prices of their own. On Aug. 31, they revealed that they would be offering Pumpkin Cheesecake Cappuccino Blasts through Halloween for just $2.99 after a successful test run. Now, the retailer is revealing that any small Cappuccino Blast — a frozen coffee drink that features 100 percent Arabic coffee beans, ice cream, and milk, as well as whipped cream and a touch of cinnamon — can be had for less than three dollars, including festive combinations like Caramel Praline Cheesecake and Banana Nut, during the month of October. If you've yet to try a Cappuccino Blast, I'd suggest you run, not walk, to your nearest BR to get this potent mix of caffeine and ice cream in your system ASAP.
If you want to just skip straight to the good stuff, the company's special Celebrate 31 promo on Halloween is all about satisfying your ice cream cravings at a fraction of the cost. Whether you're dressed as a zombie bride or channeling Ariana Grande and Pete Davidson with your S.O., you can walk into any Baskin-Robbins on the spookiest day of the year and score either a regular or a kid-sized ice cream scoop for only $1.50. No tricks, just scoops of melt-in-your-mouth ice cream.
Have a special occasion during the month of October? Customers can also save big on celebratory treats such as "select ice cream cakes" starting at just $12.99. Per the press release, participating confections include the Oreo Cookie Crumb Mini Roll Cake — an ice cream dream layered with chocolate sauce, whipped cream, and plenty of Oreo biscuits — as well as the retailer's Celebration Mini Roll Cake, which is described as a "festive roll cake adorned with colorful frosting ribbons." To make sure that your BR location of choice your cake of choice available, I'd recommend ordering online and customizing any details as you need to.
"We know how much our guests love Halloween and we're so excited to treat them to a hauntingly delicious lineup of Halloween-themed desserts and wickedly good deals all month long," Carol Austin, Vice President of Marketing for Baskin-Robbins, said in a press statement. "We are especially thrilled about the October Celebrate 31 promotion, where guests can stop by any Baskin-Robbins location for a Halloween treat."
Again, Baskin-Robbins' scary-good Halloween deals are only around for a limited time, so I'd recommend heading to your nearest BR on the night of Oct. 31 and loading up on your scoop of choice (I'd recommend the chain's Oreo-heavy flavor of the month, Trick Oreo Treat). Just one more reason that October is the perfect time to scream for ice cream.