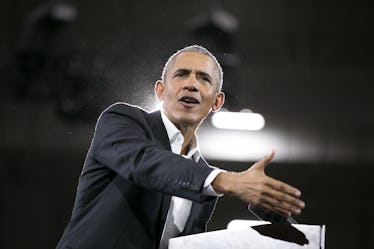 Obama Shared The Most Inspirational Lesson About Voting Ahead Of The Midterms
Jessica McGowan/Getty Images News/Getty Images
Across the country, politicians and their supporters alike have spent the weekend in a final push to get out the vote ahead of the 2018 midterm elections on Tuesday. And the former U.S. president is doing his part, too: Barack Obama's Instagram about voting in the 2018 midterms is encouraging voters to get out to the polls on Nov. 6. The post came after a weekend push ahead of the Tuesday elections, where both Obama and his successor President Donald Trump have been making the rounds to appeal to voters to show up on Election Day.
The post included a throwback photo of the Obama family — Barack, Michelle, Sasha, and Malia — from election night 2008. Sunday, Nov. 4 marked the 10-year anniversary of Barack Obama's election to the presidency. He wrote,
As I reflect on election night ten years ago today, I can't help but think about where my political career started. I wasn't running for office. I was running a voter-registration drive in Chicago. What I learned then — and what would become the premise of my 2008 campaign — was that you couldn't just fight for existing votes. You had to reach out to all of these people who had lost faith and lost trust, and get them off the sidelines.
Obama is referring to the chronic problem plaguing our elections: voter turnout, which is lower in the U.S. than in most every other developed nation in the world, and the last couple of election cycles have been particularly bad. Per CNN, only about 55 percent of eligible voters turned out for the 2016 presidential election, lower than the average 60 percent nationwide rate for a presidential election year. For a midterm year, the average turnout is 40 percent; in 2014, just 36.7 percent voted, according to electoral advocacy group FairVote. Millennial voters, per Pew Research, voted at a rate of just 49 percent in 2016 — lower than the national rate.
Obama's is a solid message for the day before Election Day, because voting is critical to the fate of the country, and not just on who leads the nation. It seems obvious, but a few votes can literally decide an election — just look at this history of races, like the single-vote difference in Virginia's House of Delegates race in 2017. Beyond just the immediate visible impact of who takes office, elections are critical for deciding voters' wishes on local and state ballot measures, statewide governments, and even wider-reaching issues like redistricting, which can impact the strength of voters in their districts.
But there's promising signs. As of Nov. 3, per The New York Times, early voting for the 2018 election in some areas of the country has already surpassed the total votes cast in 2014. Specifically, the share of young people voting appears to be getting a boost. An analysis, per USA Today, points to notable increases in some states of registered millennial voters this election cycle.
Obama went on to share his interpretation of that campaign one decade ago: How showing people their democratic power, and in turn getting them to the polls, makes a real difference. He concluded,
So on Election Day this Tuesday, I'm not just asking you to vote. I'm asking you to really show up once again. Talk with your friends, convince some new voters, and get them out to vote because then something powerful happens. Change happens. Hope happens. And with each new step we take in the direction of fairness, and justice, and equality, and opportunity, hope spreads.
So for those who don't think their votes matter, or those who are thinking about voting but need that extra push: Now's the time to make your voice heard. It may not seem like it will make a difference, but if election history is any guide, it will.