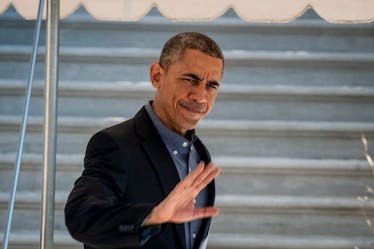 Barack Obama Officiated A Wedding & I Could Not Be More Jealous
Pool/Getty Images News/Getty Images
Well, everybody can tip our hats to this newlywed couple for having the best wedding of 2018. Not because they are a celebrity power couple, or because they had the most lavish wedding location, but because Barack Obama officiated their wedding. Two former Washington D.C. staffers reached out the former president to officiate their wedding, to which he gladly accepted. The only thing is, very few people knew he would be making a guest appearance.
The couple was Dana Remus, who worked as the general counsel for the Obama Foundation and Obama's personal office, and Brett Holmgren, who worked in the Obama White House, both as the special assistant to the president and as the senior director for intelligence programs on the National Security Council Staff. They got the best wedding gift anyone could ask for. On Sunday, Jan. 21, at an intimate wedding of 120 people at a winery, Obama wed Remus and Holmgren, according to the Washingtonian.
Remus and Holmgren reportedly made close family members swear to keep Obama's appearance a secret, making it an unexpected surprise for many of the guests. And oh, what a surprise it mut have been for those guests. The wedding planner posted a photo of President Obama's place setting on Instagram. The planner's Instagram caption read,
WHEN OBAMA IS THE OFFICIANT!!! I had the HONOR of working with an AMAZING family the last few months planning the details of their wedding officiated by close friend and boss President Barack Obama. GAAAHH!!!!! My favorite moments with POTUS 1) rehearsing before the ceremony, 2) pinning the boutonnière on POTUS 3) the signing of the marriage certificate.
People were excited, to say the very least.
"We had decided to invite him because he was such an important part of our lives, we asked him if he could attend the wedding," Holmgren told Washingtonian. "We also asked him if he could officiate, and he was intrigued with the idea."
"He complimented them both on their work, on the type of people they were, threw in a tiny bit of humor," Mary Holmgren, the mother of the groom, told the Washingtonian. "He spoke about how their work has been a service to the people and how the two of them complement each other. Very, very sincere remarks, it came from his heart."
What other stamp of approval do you need other than Barack Obama complimenting your work ethic and character?
Obama reportedly received a temporary officiant's license through the District of Columbia in order to officiate their wedding. He also signed the couple's marriage certificate (casual).
The former First Lady Michelle Obama was also invited, but was unable to attend. President Obama was reportedly invited to stay for dinner, but only stayed long enough to take photos with the family (which seems sufficient considering how valuable a *former* president's times is, just sayin'). In an email, Obama's spokesperson Eric Schultz told Washingtonian, "Friends and family danced the evening away at District Winery in Navy Yards.
Mother of the groom Mary Holmgren said, "it was a very very exciting moment. Everybody who was there was just flabbergasted and amazed at just what a nice person he is."
This may be Obama's first time officiating a wedding, but it's not the first guest appearance that the former president has made at a wedding. In August 2017, the former president was golfing at a course adjacent to the wedding ceremony of Liz Whitlow and Eddie Edgar and ended up walking over to meet the couple along with many of their guests. He followed up by sending the couple a letter congratulating them on their wedding.