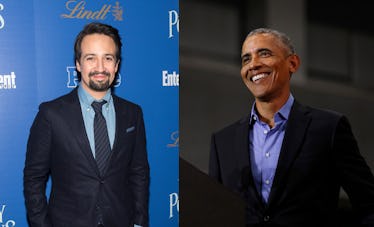 Barack Obama & Lin-Manuel Miranda's 'Hamilton' Remix Is A Presidential Jam
Mike Pont/Getty Images Entertainment/Getty Images; Bill Pugliano/Getty Images News/Getty Images
A former president and self-professed Hamilton fan is lending his vocal talents to Lin-Manuel Miranda's Hamildrops series, and the resulting track is the gospel magic you didn't know you needed in your life. In Miranda's final installment of the year-long remix series, ex-POTUS Barack Obama delivers some select lines from George Washington's farewell address, and it's powerful. Titled "One Last Time (44 Remix)" in honor of the 44th president, Barack Obama and Lin-Manuel Miranda's Hamilton remix is the ultimate presidential mashup that you won't be able to stop jamming to.
In the late hours of Thursday, Dec. 20, Miranda gifted fans an early Christmas present when he dropped the series' final track featuring the most fitting cameo from the one and only Barack Obama. It's not every day that you get a former president of the United States to head a song, but President Obama has made no secret of the fact that he loves Hamilton as much as we all do. Plus, he and the Mary Poppins actor reportedly go way back.
According to Rolling Stone, Miranda was initially inspired to pen the musical megahit after performing "Alexander Hamilton" in 2009 in front of President Obama at the White House. Since then, the former POTUS has shared rave reviews of the Broadway hit and even showed off his free-styling skills with Miranda during a performance at the White House back in 2016. Considering that the Hamilton track "One Last Time" includes excerpts from President George Washington's farewell speech, President Obama was the perfect man for collaboration.
The remix begins with actor Christopher Jackson, who originally played the nation's first commander in chief in the musical, singing along with a gospel choir. "One last time/ For the nation we've loved and we've made/ Say, oh, oh, oh," he belts out, introducing Obama. "We're gonna teach them how to say goodbye/ One last time."
That's when the 44th president comes in, reciting excerpts from Washington's goodbye address:
Though, in reviewing the incidents of my administration, I am unconscious of intentional error, I am nevertheless too sensible of my defects not to think it probable that I may have committed many errors.
Obama is then heard saying the bits from the speech about Washington's hope for his legacy:
I shall also carry with me the hope that my country will view them with indulgence and that after 45 years of my life dedicated to its service with an upright zeal, the faults of incompetent abilities will be consigned to oblivion, as I myself must soon be to the mansions of rest.
After reflecting on Washington's presidency with the first president's words, Obama continues reciting Washington's address in the moment where it takes a positive turn as he shares the joys of retiring from the immense responsibility and pressure of being a public servant. It's likely Obama can relate to the sentiments of Washington's farewell.
He says, "I anticipate with pleasing expectation that retreat in which I promise myself to realize, without alloy, the sweet enjoyment of partaking, in the midst of my fellow-citizens, the benign influence of good laws under a free government, the ever-favorite object of my heart, and the happy reward, as I trust, of our mutual cares, labors, and dangers."
Unfortunately, we don't get to hear Obama singing any lines during the mashup, but this final track is still musical gold and an epic conclusion to Miranda's Hamildrops series, which he's been sharing since December 2017.
If hearing Obama and "One Last Time" together sounds familiar, then you might recall that the cast of Hamilton performed at the White House in March 2016 before Obama left office at the end of that year. At that performance, Obama was simply a spectator as Miranda and Jackson performed the classic version of Washington's farewell tune.
Fast forward to 2018, and Obama is on the action himself. Leave it to President Obama to provide the perfect mic drop. Needless to say, I'll be listening to this one on repeat.