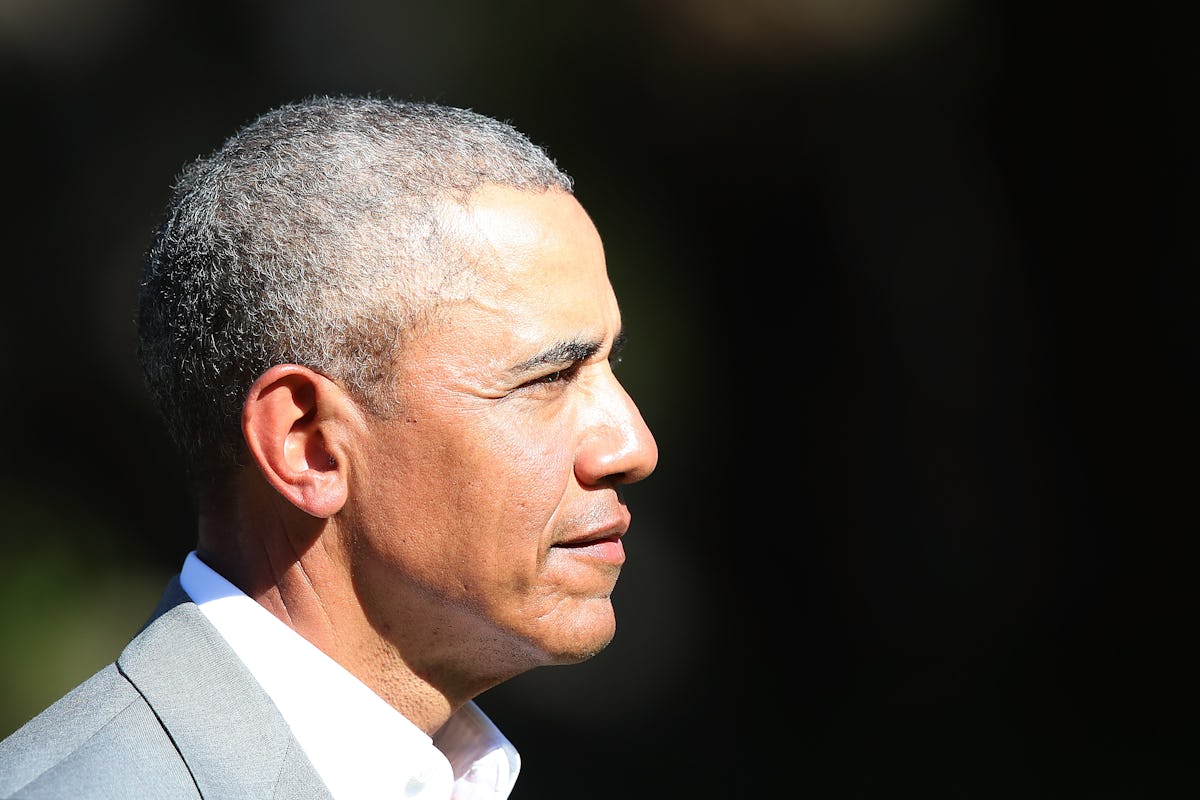 Barack Obama Is Getting Another Human Rights Award To Add To His Collection
Hannah Peters/Getty Images News/Getty Images
President Donald Trump's predecessor may not be in office any more, but his legacy is still being felt. More than 18 months into the new president's tenure, the world clearly has not forgotten about the old one — or more specifically, his contributions. Among the 44th president's many honors, now Barack Obama is getting the Robert F. Kennedy award for human rights, so I guess he can add it to his collection.
On Monday, Aug. 6, the Robert F. Kennedy Human Rights organization announced that Obama was one of this year's laureates to be given the Ripple of Hope Award. RFK Human Rights, a human rights advocacy group, is named in honor of the the former U.S. senator and attorney general who fought for civil rights and social justice alongside figures like Martin Luther King., Jr. and Cesar Chavez. This year marks 50 years since Kennedy's assassination in June 1968, the same year he was campaigning for president.
The award recognizes "those who work to advance the legacy of Robert F. Kennedy in our challenging modern times," per a release from the organization.
In that statement, RFK Human Rights added, the former president was receiving the award for his service as a senator, a president, and now as a private citizen. "In his post-presidency, President Obama remains committed to lifting up the next generation of leaders through his work with the Obama Foundation," the group said.
Obama himself seemed honored to be given the award, emphasizing its importance to him given what Kennedy meant to him.
"Bobby Kennedy was one of my heroes," he said per the release. "I first got into public service because I wanted to be a part of something bigger than myself, believing that my own salvation was bound up with the salvation of others. That's something he expressed far better than I ever could when he talked about the power that comes from acting on our ideals, those ripples of hope that can 'sweep down the mightiest walls of oppression and resistance.'
In receiving the Ripple of Hope Award, Obama joins the likes of Hillary and Bill Clinton, Joe Biden, Archbishop Desmond Tutu, and other big names in humanitarian service and leadership.
On Twitter, many users expressed their approval and support for the former president's receipt of the award. "President Obama, you are very deserving of this award!" tweeted Hill Reporter editor Ed Krassenstein. "Congratulations.... Now convince @JoeBiden to run for President!"
These "ripples of hope" are what Obama says he is "determined to help inspire and cultivate over the rest of my career," he added in the release. "The idea that anybody can be one of the millions of acts of conscience and voices raised against injustice, the idea that anybody can be one of the 'million different centers of energy and daring' who, like Bobby Kennedy, have always changed the world for the better."
The award joins an impressive collection of accolades for the former president. He was awarded the Nobel Peace Prize in 2009, shortly after he took office as president. In his acceptance speech, he talked about the nature of war and what we should look for in creating peace — namely, human rights and dignity.
"Peace is not merely the absence of visible conflict," he said. "Only a just peace based on the inherent rights and dignity of every individual can truly be lasting."
Obama also won Israel's presidential medal of distinction in 2013, TIME's Person of the Year award (twice, in 2008 and 2012), and even an award named for RFK's older brother, the President John F. Kennedy Profile in Courage award in 2017. So his trophy case is probably pretty full.
The award ceremony will take place in New York in December 2018. He'll have to clear up some space for his new award before then.