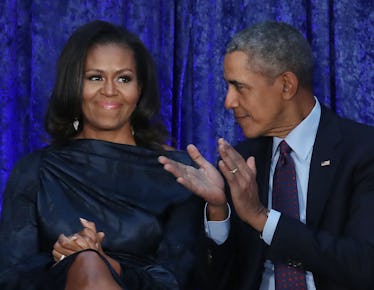 The Obamas' Touching Tribute To Aretha Franklin Has So Much Meaning Behind It
Mark Wilson/Getty Images News/Getty Images
Thursday, Aug. 16 marks the day we lost Aretha Franklin, one of the most influential singers and performers of our lifetime. Following the news of her death, celebrities all over posted touching messages in honor of the late singer. Well, Barack and Michelle Obama's tribute to Aretha Franklin is one huge hit of touching nostalgia.
On Aug. 16, former president Barack Obama shared a touching Instagram post with a few photos of the late, and great, Franklin. In addition to his post, former first lady Michelle Obama also posted a heartwarming photo and caption dedicated to the soul icon. Both tributes represent the close bond the former first family had with the soul performer, and it truly will bring a tear to your eye.
Perhaps what makes these tributes different than others is because of the special connection between the Obamas' and Franklin. The legendary soul singer performed at Barack Obama's first inauguration in 2009 by singing "My Country 'Tis of Thee" to a monumental crowd. This was undoubtably a memorable moment for both the Obamas and Franklin, and that's why the former first family's Instagram tributes really hit close to home.
In addition to singing at the inauguration, Franklin also performed at the White House in 2015 for the Kennedy Center Honors, which both Barack and Michelle Obama shared a photo of in their tribute to the 76-year old.
Perhaps gone, but truly never forgotten.
News of Aretha Franklin's failing health had circulated for a few days prior to her death, but on Aug. 16 it was confirmed that Franklin had passed away at the age of 76. Following the confirmation of her death, Franklin's family released a statement, saying:
In one of the darkest moments of our lives, we are not able to find the appropriate words to express the pain in our heart. We have lost the matriarch and rock of our family. The love she had for her children, grandchildren, nieces, nephews, and cousins knew no bounds. We have been deeply touched by the incredible outpouring of love and support we have received from close friends, supporters and fans all around the world. Thank you for your compassion and prayers. We have felt your love for Aretha and it brings us comfort to know that her legacy will live on. As we grieve, we ask that you respect our privacy during this difficult time.
Aretha Franklin had a way of commanding a crowd unlike any performer in her time. Not only could she hold a note for what seemed like an eternity, but the standing ovations she received after each performance lasted minutes. Judging from the photos the Obamas shared, it's safe to assume that each performance was an unforgettable experience for them. It's never been a secret that the Obamas are avid fans of music, especially since Barack Obama has been known to sing a few tunes himself.
Aretha Franklin may be gone, but her spirit and legacy will truly never leave us. For the Obamas, the special connection will never break.