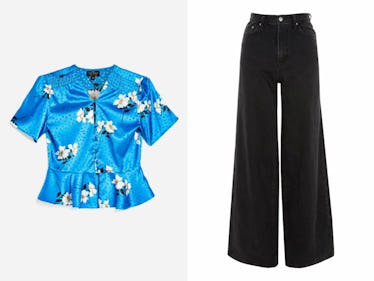 Baggy Jeans & A Cute Top Is The New Going-Out Outfit, So Go Ahead & Get Comfy
Topshop
In college my going out look exclusively consisted of either a bandage skirt or skinny jeans and a dressy shirt, depending on whether I was hitting up a bar or the clurb. (Ah, New York City college life!) Thankfully, trends have shifted and baggy jeans and a cute top aren't just acceptable to wear for a stylish night out now — they're even encouraged. Thanks to style icons such as Dakota Johnson, who have rocked comfy denim and sexy tops together in cool AF ways, the look is hitting the mainstream and replacing the constricting and straight up uncomfortable outfits that once overtook my weekend wardrobe.
To be clear, if you still love a skinny jean or bandage skirt then by all means rock them! You do you. But if you're like me and are tired of post-midnight wedgies or wiggling out of constricting tubes at 3 a.m., then proceed gleefully. Below, I put together four looks featuring baggy jeans and fancy tops that you could rock at literally any time of day or night and still be slaying the style game. No, you might not get into those nightclubs that require stilettos and Herve Leger-style dresses, but do you really want to be standing around tables with creepy promoters all night long anyways? When I go out, I want to dance like a maniac, and I want to be wearing clothes that allow me to do so.
Sugar & (Sporty) Spice
I love mixing more feminine items with those that are a bit more sporty or streetwear inspired. These wide leg culottes featuring track stripes along the side have a grunge-meets-edgy vibe to them, while this white off-the-shoulder top balances them out perfectly. It features subdued ruffles, a faux corset detail, and Bardot-style sleeves. I'd pair the look with tall white heels (the one pair of stilettos in this post!) for an extra fresh aesthetic.
Power Flowers
If you think florals can only be done in super sweet or demure ways, think again. This look, which features floor-skimming black jeans with a super wide cut, can grunge up any blooms in one second flat. The shirt itself, which is cut from a blue floral fabric and boasts a button-up front and mini peplum detail, has a silky sheen to it that allows it to transition from day to night effortlessly. Along with the frayed-edge pants, I also paired the top with a chunky silver chain choker to further roughen up the look. Black pointy-toed patent booties or classic black Vans sneakers could both look ace with this pairing.
Mad For Plaid
Eat your heart out, Cher Horowitz and Dionne Davenport! Plaid gets a majorly flirty upgrade with this throwback look. The top is the star here, as it's bustier in silhouette and features ruffles along the sweetheart neckline and a lace-up front. A peplum detailing adds some silhouette definition and the pink plaid print is the perfect mixture of sweetness and spice. I paired it with plain, baggy, hip-hugging boyfriend jeans — I think in this case, high-waisted bottoms are not the way to go. I'd roll up the cuffs, throw on the pink leather strappy sandals, and get ready to go out dancing. A cat eye and choker could further amp up the look.
Beach Bombshell
And finally, if you're less of an edgy girl and want something a bit more romantic, this sunny yellow look might be for you. It features a voluminous off-the-shoulder top with embellished jeans to match (my favorite pair of denim in this roundup), which are topped off by golden frond earrings.