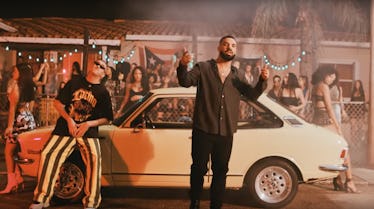 Drake Singing In Spanish In Bad Bunny's "Mia" Video Will Make You Swoon So Hard
Drake and Bad Bunny are two of the hottest artists in the industry right now. So, it's no wonder that the two have collaborated on an incredible track called "Mia" that has Drake doing something he's not really known to do: singing in a foreign language. Yup, Drake sings in Spanish and it's totally swoon-worthy. And the video for the song is even better. Bad Bunny and Drake's "MIA" video is everything fans could ever want and so much more.
The video was released on Thursday, Oct. 11, on Bad Bunny's official YouTube channel. According to Pitchfork, the joint track was released by Rimas Entertainment and Drake's OVO Sound. The song has an incredible beat and offers fans a glimpse at a totally new side of Drake, one that puts him in touch with other cultures and parts of the world — namely Puerto Rico, which is where Bad Bunny is from.
In the video for "Mia," which translates to "mine," you can see Drake and Bad Bunny dancing, partying, and just enjoying the music. The song is entirely in Spanish, so this is definitely something outside of Drake's comfort zone. But he does it so, so well! He's basically a natural at it and the song and video turned out great.
Here's a look at the video for "Mia":
Fans are obviously going wild over this collaboration. Both Drake and Bad Bunny have legions of fans who have been waiting for a collaboration of some sort for a while now. And now that it's finally here, the fans really can't contain their excitement over it. They're all over social media talking about how amazing the song and video are. Despite a few negative reactions here and there, the response to "Mia" is positive overall and that means the song is probably going to be a huge hit!
This is how fans are reacting to "Mia" on Twitter right now:
Judging by these tweets alone, I think it's safe to say that Drake and Bad Bunny absolutely nailed it. This is clearly a collaboration that fans are eating up and the video just proves how amazing the whole thing is.
And while some fans may claim that Drake is a "culture vulture" for singing in Spanish, it's doubtful that Bad Bunny would have invited Drake to do this song if he thought negatively about his involvement. Besides, I'm sure Bad Bunny was happy to share a bit of his culture with Drake. There are Puerto Rican flags all over the "Mia" video. Clearly, there was a cultural influence and a lot of respect for Bad Bunny's Puerto Rican roots in the video, and Drake seems to have enjoyed being part of it.
So, all in all, this was a really great effort from both Drake and Bad Bunny. If all goes well, it wouldn't surprise me if they decided to go ahead and make more music together in the future. In fact, I'd even bet that the fans will demand that they do now that "Mia" has proven to be such a hit. The video isn't even a day old and has already gotten over 2 million views. The numbers definitely don't lie! Drake and Bad Bunny could definitely pull numbers like that again in the future if they wanted to.