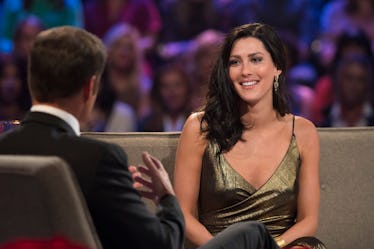 'Bachelorette' Becca K. Really Wants This Celebrity To Be On Her Season & We're Shocked
After not seeing much of new Bachelorette Becca Kufrin's personality until her break-up with Arie Luyendyk, her relatable side is shining through as she approaches the start of filming The Bachelorette. Appearing on The Ellen DeGeneres Show this week, Becca got real about the preposterously long Night One schedule, but most importantly, she spilled about her one weird crush all of us have on unconventionally attractive celebrities. Becca K. wants Michael Strahan to be on her season, and the reason why is just another way to get to know Becca.
In an interview airing on the March 15 episode of Ellen, Becca said that filming could wrap right away if the TV host and former football player stepped out of the limo. When Ellen asked her to explain her celebrity crush, she said:
I just love the gap tooth. I do, just everything about him... bring him in the limo! Game over, it'd be a really short season.
If you were keeping a tally of how many of Arie's contestants really applied for Peter Kraus as the Bachelor, consider Becca's love of the gap tooth as another check.
Among the gifts in a care package Ellen put together for Becca's filming period was a framed picture of Strahan. Bachelorette gentlemen, this is what you should aspire toward!
Ellen also gave Becca a copy of her own book, packs of 5-hour Energy, and a sealed rose that can only be opened if Becca finds the right man at the end of the show.
On the show, Becca also revealed that she starts filming "tomorrow," but as Ellen tapes a day in advance, Becca is probably reflectively looking out from a balcony and getting glammed up for limo arrivals as we speak. She's in for a lengthy day, as she told Ellen of how long Night One of The Bachelor lasted:
I'll meet all of the men tomorrow... I think I was there at 8:30 at night until 8:30 the next morning. So, it's long.
Given how accustomed Becca has become to explaining her break-up with Arie, it also wasn't surprising that she gave a short and sweet answer to how she's doing post-finale:
I feel good. I went through the entire grieving process, I was mad, I was sad, I was confused... I watched the entire season back and saw his relationships unfolding with everyone else and seeing that kind of helped move on to realize that he just found a better fit with Lauren. So, [I'm] doing well.
In honor of Arie and Lauren, "I love that" explanation.
On the first night of filming Arie's Bachelor season this past September, franchise creator Mike Fleiss shared behind-the-scenes photos, including one of Arie with Chris Harrison and other producers outside the mansion. Earlier this week, Fleiss promised on Twitter that exclusive pictures from the first day of Bachelorette filming would arrive soon.
I seriously love Becca's business casual outfit on Ellen, so I'll keep an eye out for Fleiss' pictures just to see her Night One dress.
While Strahan may not join the other men in the mansion tonight, Becca will still see some familiar faces. Five of her men were introduced on "After the Final Rose" last week, which definitely adds to their chances of becoming frontrunners throughout the season. When some of Rachel Lindsay's contestants were introduced before the Bachelorette premiere, Eric Bigger and Dean Unglert, two of the final four men, were among the pack.
I mean, I guess it's too soon to start "Lincoln for Bachelor" chants, but...
It feels like ABC is treating Becca with extra gentleness after The Bachelor, so I wouldn't be surprised if her season has a guest appearance from Strahan in store. We'll have to wait until the premiere of The Bachelorette on Monday, May 28, to find out.