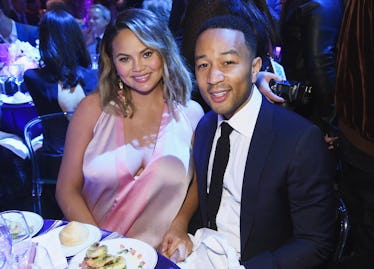 John Legend Just Revealed How Luna Is Adjusting To Her Baby Brother & It's So Cute
Jamie McCarthy/Getty Images Entertainment/Getty Images
My life is forever changed, because little Miles Theodore, Chrissy Teigen and John Legend's son, has finally arrived. My heart grew about 100 times bigger when Teigen announced on May 17 that Luna had a little brother, but it wasn't until I heard about baby Luna's reaction to Chrissy Teigen's son (aka her little baby bro) that I actually melted into a puddle of happiness.
We were #blessed on May 21, when Teigen finally gave fans a glimpse of baby Miles on Instagram. Her caption read, "Hello, world! This is Miles Theodore Stephens - We are drowning in his little peeps and nuzzles. Our household feels overwhelmed with love. Thank you for all your well wishes!" How cute is that face! Now, we're hearing what Luna thinks of her new younger sibling. Daddy John Legend was on the red carpet for an Emmy Event in California on Monday, May 21 and gave all the details to People. He said,
[Luna's] used to having us to herself ... I think she's just starting to realize though that he might be competition. So in some ways it's good because she's stepping her game up. She's being more loving, she's singing louder, and dancing harder. She's making sure we don't stop paying attention to her.
How cute is that? Little Luna, I'm pretty much certain your parents will not forget about you.
Teigen gave us a second glimpse of her new family on Sunday, May 21, in a photo where Luna is in the background playing a harp. Maybe she's making more noise to get the eyes back on her?
If you're a fan of Chrissy Teigen, you basically feel as though you're BFF's with her because she's just so honest and relatable, and I am totally including myself in that notion.
It seems like it was only yesterday when Chrissy Teigen announced that she was pregnant with her second child. On Nov. 21, Teigen posted a video to her Instagram showing her cuddling Luna on the couch. Teigen points the camera to her stomach and said, "Luna, what's in here?" Luna quickly responds with, "Baby!"
I just need a quick minute, friends. Currently suffering from a case of cuteness overload.
When Teigen stopped by The Ellen DeGeneres Show on Feb. 19, she announced to the world that she and John Legend were expecting a son, so little Luna will be getting a baby brother. "I'm having a baby boy in the spring. I'll tell you — it's June!" the Lip Sync Battle star told DeGeneres. She also revealed that finding a name they both liked was a challenge. "Boy names are really tough," she told DeGeneres. "I don't think he will even have a middle name because we can't even come up with a first name."
Degeneres joked that they should name their son Urban (Urban Legend is pretty great, not going to lie), and even though they went a different route, I think the name Miles is actually perfect.
The couple has been more than open about their struggles to conceive naturally, and in an interview with Cosmopolitan in August of 2017, John Legend spoke candidly about how difficult the process was with Luna. He said,
I think it's especially difficult when you can't conceive naturally. You want to feel like everything's working properly and want everything to be perfect, but sometimes it's not. I wouldn't say we can't conceive naturally, but I would say that it's enough of a challenge where it felt like we needed help ... We're lucky that we're living in an age where we can conceive in other ways. (IVF) brought us Luna and hopefully it will bring us a few more awesome kids, too.
I'm so glad that everything worked out for Chrissy and John, and now they have two beautiful children together. I seriously can't wait to watch Luna and Miles grow up together!