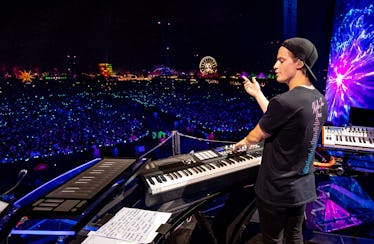 Avicii's Family Said A Moving Thank You To Fans After His Death
Christopher Polk/Getty Images Entertainment/Getty Images
Avicii's untimely death on April 20 shocked the world. The Swedish DJ, whose real name was Tim Bergling, was one of the biggest EDM stars of our time, known for his infectiously timeless hits "Wake Me Up" and "Levels." To see him pass away at such a young age — just 28 years old — left fans completely devastated. While some of us fans may never get over the news, Avicii's family's response to his death offers a little bit of solace and warmth during this mournful time.
On April 23, Avicii's family released a statement to E! News, thanking fans for their support and "initiatives taken to honor Tim." The statement read:
We would like to thank you for the support and the loving words about our son and brother. We are so grateful for everyone who loved Tim's music and have precious memories of his songs. Thank you for all the initiatives taken to honor Tim, with public gatherings, church bells ringing out his music, tributes at Coachella and moments of silence around the world.
The statement concluded, "We are grateful for the privacy during this difficult time. Our wish is that it continues that way. With love, The Tim Bergling Family"
The statement comes just three days after Avicii's publicist, Diana Baron, announced that the musician had been found dead in Muscat, Oman. A statement obtained by The Hollywood Reporter read,
It is with profound sorrow that we announce the loss of Tim Bergling, also known as Avicii. He was found dead in Muscat, Oman this Friday afternoon local time, April 20th. The family is devastated and we ask everyone to please respect their need for privacy in this difficult time. No further statements will be given.
Fans were shocked, to say the least. And, after the news broke, multiple artists took to Twitter to express their admiration for Avicii and his influence in the music world, including Charlie Puth and Calvin Harris.
While no official cause of death was given, Avicii has struggled with various health issues over the years, including acute pancreatitis, which was reportedly partly due to excessive drinking. Eventually, as a result of the condition, he had to get his get his gallbladder and appendix removed in 2014, which forced him to cancel a slew of shows in order to recover. But just two years later, instead of making a return to the EDM world, Avicii announced that he would be retiring from touring entirely.
"I know I am blessed to be able to travel all around the world and perform, but I have too little left for the life of a real person behind the artist," he wrote on his website. "I will however never let go of music. I will continue to speak to my fans through it, but I've decided this 2016 run will be my last tour and last shows. One part of me can never say never, I could be back… but I won't be right back."
He elaborated on his decision to retire in a 2016 interview with The Hollywood Reporter, saying the scene was not for him and that it was "very hard" to adjust to, given that he's "more of an introverted person." He explained,
It was not the shows and not the music. It was always the other stuff surrounding it that never came naturally to me. All the other parts of being an artist. I'm more of an introverted person in general. It was always very hard for me. I took on board too much negative energy, I think.
This will never be easy, but I'm glad that he tried to live his last years in peace. May Avicii and his legacy forever live on.