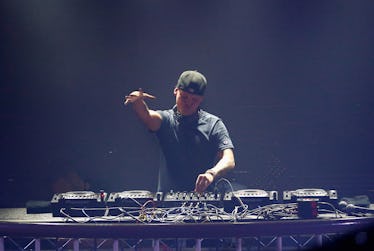 Avicii Was Honored During The Billboard Music Awards In Such A Beautiful Way
Rich Polk/Getty Images Entertainment/Getty Images
After Avicii's sudden and untimely death on April 20, 2018, fans delivered an outpouring of support on social media for the EDM superstar. The mood was felt exactly one month later at the Billboard Music Awards on Sunday, May 20, when it was time for the music community to formally acknowledge his passing. Avicii's 2018 Billboard Music Awards tribute was so moving, and I'm glad they did it right.
The Chainsmokers and Halsey spoke briefly about Avicii's untimely passing before they introduced the nominees for the Top Hot 100 Song early in the evening. The Chainsmokers — comprised of Alex Pall and Andrew Taggart — acknowledged Avicii's mark on the EDM scene, and how his passion has influenced them over the years.
"Before we get to the next award, we'd like to take a moment and talk about our friend, Avicii," Pall said.
"His passing was a great loss for the music world, and for us," added Taggart. "He was an artist who inspired so many in so many ways, and simply put, he meant so much to us and everyone in the EDM community."
Halsey concluded by urging people to offer support to loved ones who may be struggling with mental illness.
"Everyone who worked with him would agree that he was such a joy, and it makes this tragedy all the more painful," she said. "And it's a reminder to all of us to be there and to support and love all of our friends and family members who may be struggling with mental health issues."
Although Avicii, 28, whose real name was Tim Bergling, became a household name between 2011 and 2012 with his breakout hit "Levels," he had quite a successful year in 2017. At the 2018 BBMAs, he was nominated for Electronic/Dance album of the year for his latest EP, Avīci (01), which included "Lonely Together" featuring Rita Ora. The EDM producer's final tweet was to Billboard, showing appreciation for having been nominated.
Avicii's family released a statement on April 26, although his cause of death was not formally announced.
"When he stopped touring, he wanted to find a balance in life to be happy and be able to do what he loved most — music," the statement reads. "He really struggled with thoughts about Meaning, Life, Happiness. He could not go on any longer. He wanted to find peace." He reportedly struggled with alcohol abuse and had other health problems, including acute pancreatitis, per Variety's obituary of the producer. He had his gallbladder and appendix removed in 2014.
But the tribute on Sunday managed to capture the essence of what Avicii's music was about, leaving the job of tackling more of the somber inner-world of the star to the Netflix documentary, Avicii: True Stories. On Sunday, the poignant, joyful, synth-folk-dance anthems that sound unequivocally Avicii were honored in the best way possible.
Avicii is widely credited with setting EDM music on a trajectory for mainstream appeal — but he humbly rejected that notion during his life. Instead, he credited Rednex's 1994 hit "Cotton Eye Joe" with spurring his interest in genre-bending dance music that people could have a good time listening to. The song blended bluegrass and electronic music in an interesting way — something that Avicii would go on to perfect with his follow-up hit to "Levels," which was his collaboration with American soul-singer Aloe Blacc on "Wake Me Up."
Avicii and Blacc teamed up on what would become a summer smash hit that combined acoustic guitars, synthesizers, and electronic drum beats. Avicii joked in a 2013 interview that it was just a fun experiment, and that Blacc wrote the lyrics in under two hours.
Variety labeled his sound as "folktronica," even though the term never really took off. But it definitely speaks to the impact that Avicii made on a community of young people, and his unrelenting creativity.
Avicii reportedly grew up listening to everything from '60s soul music to '80s glam rock. He then turned those styles into his own — something that only the most innovative musicians are able to successfully pull off. The saddest part about the tribute, I suppose, is the fact that it serves as a reminder that we've experienced the last of his musical touch.