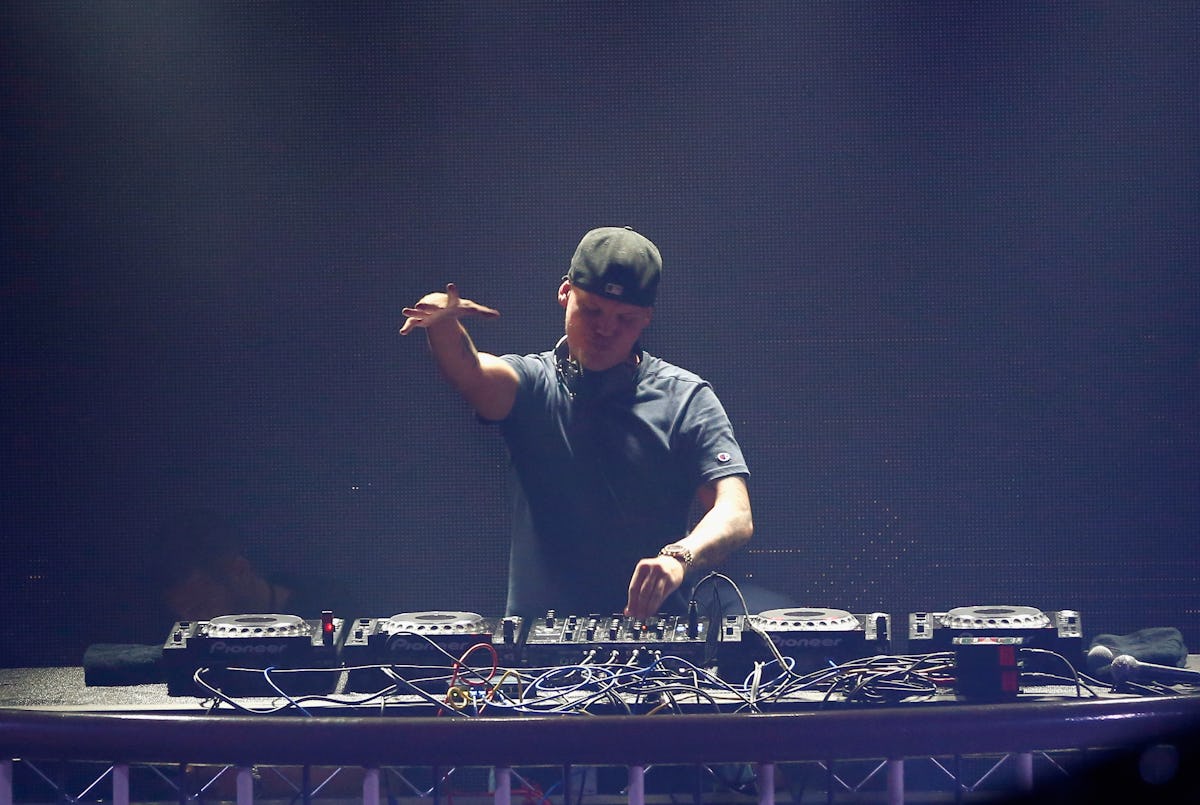 Fans Are Heartbroken For Avicii All Over Again After He Won A Posthumous VMA
Rich Polk/Getty Images Entertainment/Getty Images
The music world was shocked and saddened on April 20, 2018 when news broke that superstar DJ Avicii had passed away at the age of 28 years old. Avicii, whose real name was Tim Bergling, was a groundbreaking force in the industry; his impact on the hitmakers of today and the EDM genre overall was massive, and his loss was deeply felt by fans and celebrities alike. Rita Ora, who collaborated with Avicii on 2017's "Lonely Together," took to the Radio City stage on Sunday night to honor his memory. She announced Avicii won Best Dance Video at the 2018 VMAs, but of course — the win was bittersweet. His posthumous victory only reminds fans of the late musician's artistry and memorable contribution to music.
"I just found out Avicii and I won Best Dance, please let's make some noise for Avicii right now," Ora told the audience on Monday night. The late Avicii and Rita beat out heavy hitters in the category like Calvin Harris and Dua Lipa, The Chainsmokers, Zedd and Liam Payne, Marshmello featuring Khalid, and David Guetta and Sia.
Following Avicii's passing in April, Ora expressed her sadness and condolences via Twitter. The singer wrote:
I have no words. I remember how amazing it was to make Lonely Together and it felt like just yesterday we were talking. Condolences to Avicii's family, friends, and the fans who supported him. May he rest in peace. Gone too soon. I'm devastated. Heartbroken.
Many collaborators, admirers, fellow DJs, and fans shared their heartbreak over his passing through social media as well.
"Working with him was one of my favorite collaborative moments. far too young. the world was a happier and fuller place with his presence and art," Imagine Dragons tweeted.
"I can't express how deeply sad I am. Meeting him changed my life. He was an amazingly talented person and it hurts so bad that he's gone," Aloe Blacc shared.
Rita Ora additionally opened up about Avicii during a King's Day performance in the Netherlands a week after his death. She told the crowd:
I had the honor of collaborating with someone who changed my life and he was a really good friend of mine. I heard some DJs playing some of his music earlier, and I haven't sang his song that we did together ever since he passed away, until today. It's going to be very hard for me to sing this next song.
Avicii's family released statements regarding his death last April, including one that described the Swedish-born Bergling as a "fragile artistic soul searching for answers to existential questions." A portion of their statement read:
He really struggled with thoughts about Meaning, Life, Happiness. He could not go on any longer. He wanted to find peace. Tim was not made for the business machine he found himself in; he was a sensitive guy who loved his fans but shunned the spotlight. Tim, you will forever be loved and sadly missed. The person you were and your music will keep your memory alive.
While fans are definitely happy to see Avicii recognized, it doesn't take away from the bittersweet moment that comes with recognizing such an idol who really was gone too soon.