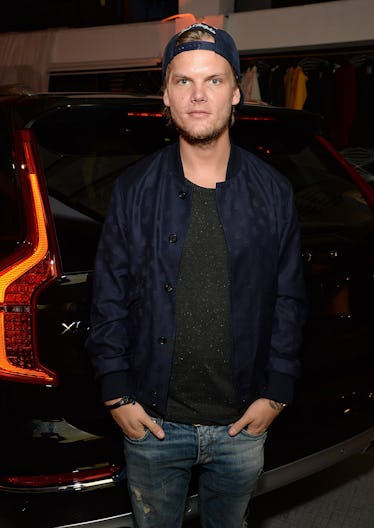 Avicii Didn't Win A 2018 Billboard Music Award & My Heart's Breaking All Over Again
Michael Kovac/Getty Images Entertainment/Getty Images
News of electronic dance music pioneer Avicii's death shocked the music world and beyond on April 20, 2018. The talented 28-year-old's legacy lives on through his songs, influence, and his fans, as he continues to make his mark on the industry even after his passing. Avicii was even nominated for Top Dance/Electronic Album at the 2018 Billboard Music Awards. The category was announced prior to the live show, and unfortunately for fans of late DJ, Avicii lost his final BBMA. The Chainsmokers picked up the huge honor for "Memories... Do Not Open," also beating out Calvin Harris, Kygo, and ODESZA.
Avicii (whose real name was Tim Bergling) tweeted about his excitement for the BBMA nod when the nominations were announced last month. "Thanks for the nomination!" he wrote on April 17. It was his final tweet before his death.
Avicii's nomination was for his EP "Avici (01)." He had been nominated for five Billboard Music Awards in the past, winning Top Dance/Electronic Song in 2015 for the smash single "Wake Me Up."
Avicii was found dead in Muscat, Oman and his passing was announced via his publicist. "It is with profound sorrow that we announce the loss of Tim Bergling, also known as Avicii," Diana Baron said. "The family is devastated and we ask everyone to please respect their need for privacy in this difficult time."
The Swedish superstar's parents released their own statement on April 23 that thanked fans for their support. They released a second heartbreaking statement on April 26 which read:
Our beloved Tim was a seeker, a fragile artistic soul searching for answers to existential questions. An over-achieving perfectionist who traveled and worked hard at a pace that led to extreme stress. When he stopped touring, he wanted to find a balance in life to be happy and be able to do what he loved most – music. He really struggled with thoughts about Meaning, Life, Happiness. He could not go on any longer. He wanted to find peace. Tim was not made for the business machine he found himself in; he was a sensitive guy who loved his fans but shunned the spotlight. Tim, you will forever be loved and sadly missed. The person you were and your music will keep your memory alive. We love you, Your family
Avicii had been public about his personal struggles. The DJ retired from touring in 2016.
"To me it was something I had to do for my health," he told The Hollywood Reporter that same year, shedding light on the decision. "The scene was not for me. It was not the shows and not the music. It was always the other stuff surrounding it that never came naturally to me. All the other parts of being an artist. I'm more of an introverted person in general. It was always very hard for me. I took on board too much negative energy, I think.
"When I look back on my life, I think, Whoa, did I do that? It was the best time of my life in a sense. It came with a price—a lot of stress, a lot of anxiety for me—but it was the best journey of my life," he added.
Avicii's impact on EDM and the face of music today is undeniable. His inspiration on other artists is not only felt in their work, but in their words. Many musicians, such as Calvin Harris and Aloe Blacc, took to Twitter following his death not only to mourn the devastating loss, but to express just how meaningful his prolific contribution to the industry was.