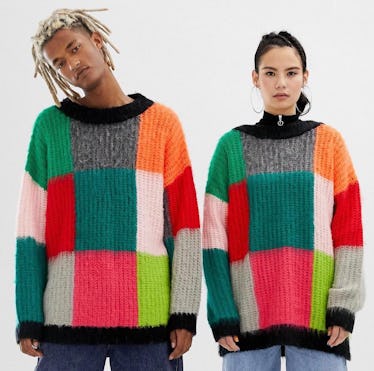 The WHOLE ASOS Site Is 25 Percent Off For Black Friday AND Cyber Monday, So Cue Me Screaming
It's pretty much impossible to not get overwhelmed with all of the buzzy Black Friday deals that are saturating the market. Which one do I shop? Which one actually has the best deals? Which one has the cutest clothes? It can almost be too much. However, ASOS' Black Friday 2018 sale is one that you absolutely need to check out, especially if clothes and accessories are what you're after in terms of sale scores. Not only is the brand they offering ace discounts but they also boast a vast selection that is pretty much unmatched. So no matter what you're looking for, they will definitely have something to satisfy your sartorial craving.
Before getting into the nitty gritty, let me first give you a crash course on why ASOS is a Black Friday must. For one, it has literally thousands of products that are all super on-trend, many of which belong to one of their SIX in-house brands, in addition to other super buzzy brands, such as Adidas, Bershka, Vans, Missguided, and the like. In other words, when you shop at ASOS, you're really shopping a large selection of retailers, therefore cutting your perusing time way down. It's why, if you only have time to scope out a few websites for sales, ASOS should be among them.
Even more importantly, the retailer stocks an excellent selection of plus and curve items, so no matter if you need a cool puffer coat or super chic pea coats, a glittery New Year's Eve dresses or some top notch denim, ASOS will have something that will work for you. Oh, and accessories? They've got a bigger bag selection than the Kardashians (don't quote me on that, actually), and footwear offerings to die for. So, what kinds of discounts will you be able to shop these items at? Get ready, because you'll probably faint when you hear this.
From right now, Nov. 22, lasting through Nov. 27 (that's so many days!), the US version of ASOS will be offering an incredibly 25 PERCENT OFF your entire purchase — no order minimum required — as long as you use the code EPIC25 at checkout. It's not a one-time use code either. For example, if you order a bunch of things, and then catch a glimpse of an amazing pair of boots you forgot to add to cart, you can order those with the same discount, no problem.
If you need some inspo as to what you should snatch up during this epic sale, here are a few pieces you're sure to love:
If you're down to hop on the (faux) fur trend this season, ASOS has an unbelievably huge selection, including this rust-colored faux fur baby.
If you're on the hunt for a holiday party dress, this sequin and velvet wrap dress combines two of the hottest winter trends this season.
Leopard print is having a huge moment this year, and this midi skirt will perfectly pair with pretty much any top.
Allow me to officially check these gray check pants off your shopping list.
These boots where made for walking right onto your closet and never looking back.