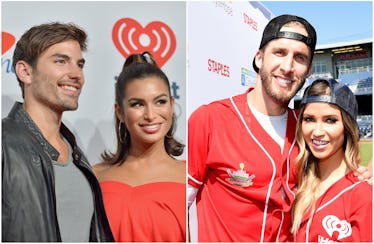 Ashley & Jared's Reaction To Kaitlyn & Shawn's Breakup Will Break Your 'Bachelor' Heart
Sam Wasson/Getty Images Entertainment/Getty Images & Rick Diamond/Getty Images Entertainment/Getty Images
Bachelor Nation is still reeling from the recent breakup of Bachelorette couple Kaitlyn Bristowe and Shawn Booth, and some fellow Bachelor alums are just as shook about the split as fans are. Engaged couple Jared Haibon and Ashley Iaconetti both shared time with Kaitlyn and Shawn in the Bachelor mansion, and they're bummed about their actual #CoupleGoals splitting up. Ashley and Jared's reaction to Kaitlyn and Shawn's breakup is heartbreaking, but they still owe a lot about their relationship to the former pair.
Back in the days when Kaitlyn was just that Canadian girl on Chris Soules' 2015 Bachelor season, Ashley lived in the mansion with her as the show's token virgin (Colton, take notes!). While Ashley was sent home on a two-on-one date, Kaitlyn ultimately finished in third place. She and other fan favorite Britt Nilsson were both named the Bachelorette that spring, and the Season 11 premiere followed the men voting on which woman they preferred as the lead (yeah, not the greatest way to kick off a season). Both Jared and fellow contestant Shawn began to make an impression on newly minted lead Kaitlyn, but the former was cut late in the competition. Jared then headed to Bachelor in Paradise, where he first met his future wife Ashley.
While Jared and Ashley only announced their relationship earlier this year, Kaitlyn and Shawn were together for more than three years before announcing their breakup on Nov. 2. In a joint statement to PEOPLE, they wrote, "Even though we are parting as a couple, we're very much committed to remaining friends. We have both evolved as people, which is taking us in different directions, but with the hope that we will continue to support each other in new ways."
Speaking to E! News, Ashley said about the split, "We're just so sad, we always looked at them as such an ideal couple. We always strived to have their playfulness, it's just really sad."
Jared agreed, saying:
Being on the season, seeing what Shawn went through, the emotional roller coaster and then they finally end up together, you can see how much love they have for one another. It's hard to see something like that go away, but I wish the best for each one of them.
Ashley also told the outlet, "There has not been a Bachelor couple that we have been so close to, that we've been with through the whole process, that have broken up, other than them."
Essentially, Ashley and Jared's feelings about this split are equivalent to finding out that couple you double-dated with in high school finally broke up. While the Paradise pair were surprised, an anonymous Bachelor alum told E! differently, saying:
It was not a shock. No one in our circle is surprised by their decision to split... Kaitlyn and Shawn are great people on their own but you could tell they weren't going to ever make it down the aisle together.
Ouch. It's definitely tough to see some of our favorite Bachelor contestants go through this bumpy patch, but we have Kaitlyn and Shawn's journey to thank for Jared and Ashley's relationship, even though they didn't become a couple until several years after their first meeting. Ashley revealed to E! News, "If it weren't for Kaitlyn, Jared would have never opened his eyes to a girl like me."
Just as Jared and Ashley did, we wish the best for both Kaitlyn and Shawn during this difficult time. Season 23 of The Bachelor premieres on Monday, Jan. 7, 2019, on ABC.