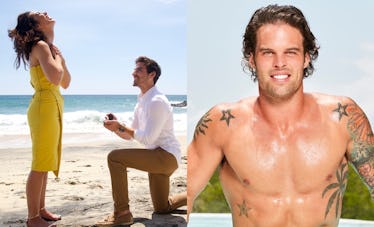 Ashley I. Says Jared "Fought" To Have Kevin Leave The Beach For His Proposal
ABC/Chris Sjodin/Paul Hebert
Bachelor in Paradise fan favorites Ashley Iaconetti and Jared Haibon took the next step towards their happily ever after on last week's episode of the reality dating competition spinoff. The cute couple touched down in Mexico for a Season 5 cameo to remember — Jared got down on one knee to propose. Unfortunately, Ashley's ex Kevin just happened to be on hand the witness the romantic event since he's a cast member. Now Ashley I. says Jared "fought" to have Kevin leave the beach for the engagement. The bride-to-be is setting the record straight about what really went down on that very special day.
Following Jared's heartfelt declaration of love and popping of THE question on Sept. 4's episode of BIP, the champagne was flowing and almost everyone was feeling their love. After all the ups and downs Jared and Ashley have gone through — televised or not — it's pretty hard for Bachelor Nation not to swoon at the thought of the pair spending the rest of their lives together. But Kevin wasn't reveling in the celebration. He and Ashley have a significant past. They met on Winter Games and ended up dating beyond the show until breaking up after a few months, so her public display of engagement with Jared obviously stirred up his emotions.
If you're wondering why Jared decided to propose in front of his fiancee's old flame, well... there's more to the story than meets the TV camera's eye. Ashley clarified the sticky situation in a blog for Cosmopolitan:
First off, Jared didn't know that Kevin was part of the cast when we headed down to Mexico, and he'd been planning the proposal way since before Kevin was cast, period. It wasn't until literally the night before our big moment that Jared found out Kevin was still in Paradise— and he fought to have him out on a date or in an interview at the time of our proposal, anything or anywhere that would prevent him from witnessing it. For everyone's sake!
Ashley also added that they were unaware the proposal scene was being viewed by the entire cast as it happened. So, there you go.
Kevin's silver lining? He's been going strong with Astrid Loch for much of Season 5 of BIP. The adorable duo have kept it real with each other throughout their budding relationship, which has been refreshing to watch unfold since a lot of televised Paradise convos don't seem to go deeper than the surface. Kevin even opened up to her about wrestling with Ashley and Jared's not-so-private engagement. He said:
It's kind of annoying because I haven't thought about her in a while and I've had a good couple of days and like, I know I'm not the mayor of Paradise but I'm still here doing my own thing and you come here and do it right in front of me...
"And then she's all of a sudden with a guy right after me and now they're engaged it's like, was I just a pawn in her kind of scheme?," he added.
But from Ashley's perspective, it does not sound like flaunting her newfound happiness in front of Kevin was the intention. Dealing with exes is complicated! Especially in the tiny Bachelor-verse.