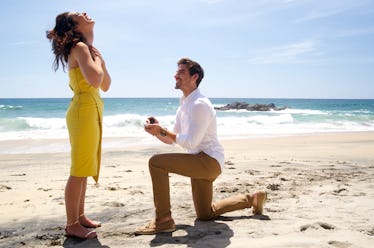 Ashley I. & Jared Opened Up About Their One Condition For Televising Their Wedding
ABC/Paul Hebert
Ashley Iaconetti and Jared Haibon met thanks to television, got closer because of television, and will reportedly get engaged on television. So, a television wedding would make sense, right? It's surely not out of the realm of possibility. In fact, the couple is totally open to filming their upcoming nuptials. Bachelor in Paradise friends-turned-fiances Ashley I. and Jared want a TV wedding, but making that happen would require making sure there would be no guest list restraints. Hey — these two have a lot of mutual pals from the Bachelor universe.
"I think we're both down for it, but our caveat is that we want the guests... as many guests as we want and we don't want to have to be limited to that," Ashley told fellow Bachelor alum Ben Higgins and their guest Shawn Booth on her Ben and Ashley I Almost Famous Podcast. "If we couldn't have it the way we imagined, that's the only reason we wouldn't do it…
"We want it, we want it," she added.
Bachelor Nation wouldn't have it any other way. Perhaps ABC will help Ashley and Jared create (and film) the dream wedding they deserve. Their contribution to reality TV is pretty much invaluable. Their public love story needs the fairy tale ending viewers have been waiting for.
News of Ashley and Jared's engagement broke on June 18. Jared popped the question in Mexico as part of the upcoming season of Bachelor in Paradise — the show that brought them together in the first place. The duo announced their relationship in May via KineticContentTV's digital series The Story of Us (which Ashley hosted), discussing their road to boyfriend-and-girlfriend status in a detailed video clocking at nearly 45 minutes. Ashley and Jared connected on Season 2 of BIP, but she ended up friendzoned when Jared didn't commit. The pair returned for Season 3 and things got even rockier when he struck up a relationship with contestant Caila Quinn.
But all that drama's behind Ashley and Jared these days. They realized they were clearly more than just buddies and are now prepping to tie the knot. What a difference a few seasons of BIP makes.
"There's just this undeniable, magnetic force between the two of us that just is indescribable," Haibon gushed to People last month. "Love conquered."
Ashley and Jared have not disclosed an exact wedding date or confirmed a televised event to come, but that doesn't mean Ash isn't already considering her big day options. She opened up about planning on a June 25 episode of her always entertaining I Don't Get It podcast.
"You guys, it's so weird but also it's not weird because Jared and I have felt married since the moment we started dating," Ashley gushed. "We've actually probably felt almost married since the moment we met each other. This ring on my finger really says something."
When it comes to a planning timeline, Ashley isn't interested in a long engagement. "We think a year," the 30-year-old revealed.
Ashley also confessed she got an email from Kleinfeld, aka the famed dress retailer from Say Yes to the Dress. Maybe fans will have the opportunity to see her pick out a gown one day...
Ashley is also interested in a church wedding with a separate reception location, although she explained that she worries about the risks of an outdoor event.
No matter where or how Ashley and Jared decide to say "I do," I'm sure it will be a dreamy affair fit for a romantic comedy's final scene. Hopefully Bachelor Nation will get a chance to witness the magic.