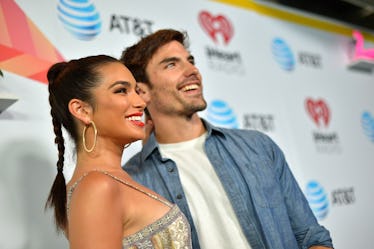 Ashley I. Has A Theory About Why She & Jared Haibon Are Different From Bachelor Nation
Charley Gallay/Getty Images Entertainment/Getty Images
Forget Bachelorette Becca Kufrin's eventual fiancé and any romances that emerge on the upcoming season of Bachelor in Paradise. This has definitely become the summer of the newly engaged Paradise alums Ashley Iaconetti and Jared Haibon, and we haven't even seen footage of Jared's proposal yet. Although the couple's YouTube video explaining how they got together was like a modern-day Notebook, their interactions on TV were far from foreshadowing their future together. They might not have their first "I love you's" filmed like other Bachelor couples, but these two don't seem to mind. Ashley I. has a theory about why she and Jared are different from Bachelor Nation, and it actually makes a lot of sense.
Everyone loves a good "friends-turned-to-lovers" story, and if anything, Ashley and Jared are Bachelor Nation's closest representation of that. Of course, the switch to lovers seemed to happen pretty quickly, but I guess anything could happen after being friends for nearly three years like Ashley and Jared were. Any Bachelor fan knows how much of a romantic Ashley is, and while she isn't straight-out comparing her love story to When Harry Met Sally, her thoughts on her and Jared's Bachelor Nation romance playing out offscreen certainly reminds me of it. She told Entertainment Tonight:
I will say that it's cool that with The Bachelor, they're getting their first story that really evolved outside of the show, and they're getting a friendship story [that] they never really had. They have two people who it never worked out onscreen with, but then somehow it happened.
She definitely has a great point. The atmosphere of Bachelor in Paradise doesn't always allow for mature conversations and wise decisions. After initially meeting on Season 2 of Bachelor in Paradise, starring on the following season together, and having a tumultuous relationship both years, it seems that Ashley and Jared just needed the real world to solidify their friendship and figure out their own issues before getting together. There are a few Bachelor Nation couples who met away from the TV world and have since married, but Ashley and Jared are unique in meeting on a Bachelor franchise show and knowing each other for so long before getting together.
Their friendship also seems to be their secret behind a seemingly strong relationship. For Jared, genuinely liking each other has been the key to their romantic relationship taking off so smoothly. He told ET:
It is easy. I have never been in a friendship or a relationship that has ever been easier and we never get tired of each other.
The couple has also shared that having different strengths and weaknesses allows them to balance the other out well. As for when the big day is, Jared and Ashley hinted during an Access Hollywood appearance that they want to get married next summer. In the interview, Ashley also spilled on whether she sensed a proposal coming when she and Jared returned to the set of Bachelor in Paradise to film a guest appearance on this summer's Season 5, saying:
I thought I was gonna go and give a date card to a couple who may have some hurdles to overcome, like we did, or if they were permanently in the friend zone. But I had a little inkling that there was maybe a 50 percent chance that the proposal could happen because I knew for a very long time that Jared wanted to do it in a place that meant a lot for our relationship, so what means more than Sayulita, Mexico?
While Ashley admitted on the Ben and Ashley I. Almost Famous Podcast that she and Jared would have a televised wedding if they were allowed to invite as many guests as they wanted, this is one Bachelor wedding that Chris Harrison wouldn't helm. The couple have been vocal about wanting their friend and fellow Paradise alum Tanner Tolbert to officiate their wedding ceremony. According to Jared, Tanner has been the couple's "fairy godfather," and while I love a good old Bachelor wedding, I'm glad to know that the same old logistics will be shaken up with Tanner as officiant.
At this rate, I'm more than ready to finally see Jared get down on one knee in front of Ashley on the Mexican beach. Season 5 of Bachelor in Paradise premieres on Tuesday, Aug. 7, at 8 p.m. ET on ABC.