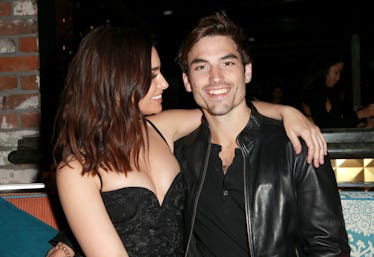 5 Ashley I. & Jared Moments From 'Bachelor In Paradise' That Summarize Their Love Story
Rich Fury/Getty Images Entertainment/Getty Images
It's official, Bachelor Nation. After years of a rollercoaster relationship/friendship/whatever Paradise is exactly, Bachelor alums Ashley Iaconetti and Jared Haibon are finally dating. It's been three summers since their rocky Bachelor in Paradise meeting and while Ashley had eyes on Jared from the beginning, it appears sometimes true romance takes time to get to where it needs to be. The pair shared their journey on KineticTV's The Story of Us (which Ashley hosts), but Ashley I and Jared moments from Bachelor In Paradise further elucidate their long love story.
Ashley admitted that she felt an instant connection with Jared when he stepped on the Paradise scene in Mexico back in 2015. You may recall that the pair struck up a romance and he ended up breaking things off with her.
"I never felt like it was over between us after Paradise," Jared gushed. "I'm not gonna lie and say that I was in love with Ashley during BiP. It was a slow build for me."
Yup — talk about the long game. They ended up heading to Paradise a second time, but that tumultuous stint didn't end in a relationship either. The duo ultimately became friends, although there were hints of feelings beyond that constantly creeping in, they explained.
"If we were gonna cross that friendship boundary, there's no going back," Jared remarked in their adorable interview. "If I even had a 2 percent doubt about our relationship and what it could potentially be then I probably shouldn't do it because I don't want to risk losing you as a friend."
Ashley had a whirlwind romance last year when she got together with Canadian Bachelor contestant Kevin Wendt on Bachelor Winter Games. Ash gave the relationship a shot, but decided to end things when her heart wasn't fully in it. This opened up the door for Jared, who had expressed his real feelings to Ashley before (oh, timing!), to take things to the next level.
"It's pretty messy, but it's also the purest, best love story I think I have ever heard," Ashley noted.
Need a refresher on their relationship leading up to this fairytale ending? These standout moments should paint quite the picture.
1. Fantasy Suite Dreams
It was clear to everyone and the audience that Ashley had a serious crush on Jared from the moment he descended on Paradise. The couple connected throughout Season 2, even making their way to the Fantasy Suite. Yes, Jared dumped Ashley shortly after this went down, but they're together now, so all good?
2. Ashley Cries to a... Parrot
In Season 3 of BIP, things got real. Season 3 showed Jared's encouragement of Ashley to see other people and of course, major drama ensued. Jared sparked up a connection with Caila Quinn. Please enjoy this video of a crying Ashley consulting a parrot over what to do with the sticky situation. "This is not the way it's supposed to go," Ashley says, before the parrot calls her nuts. At least she has a self-deprecating sense of humor about it all.
3. Ashley and Jared Have Quite the Talk
During the whole Caila thing, Ashley and Jared had a heart to heart about where they stood.
"I am the best," Ashley laughed. "I am the best for Jared as far as who's gonna love him and treat him right." Maybe she was right?
4. Ashley, Caila, and Jared Open Up
Caila bounced when she couldn't take the drama, considering Ashley, er, shall we say interfered in her relationship with Jared. On After Paradise Jared characterized his standing with Ashley at the time as "really good friends" and explained that "Ashley was trying to be the best friend that she could be to me." He also revealed that they had kissed a year prior, although they didn't continue to explore anything beyond friendship. Ashley then apologized to Caila.
5. Ashley Hints at Something
Nope, this scene isn't from Paradise, but it does certainly hint at what's to come. In a March interview with ET, Ashley discussed her breakup with ex Kevin, but also teased her current relationship status. "Oh, time will only tell, right?" she said, when asked if a reconciliation with Jared was on the horizon.
And time did tell, indeed. I'm guessing these two lovebirds won't be signed up for Bachelor in Paradise this summer.