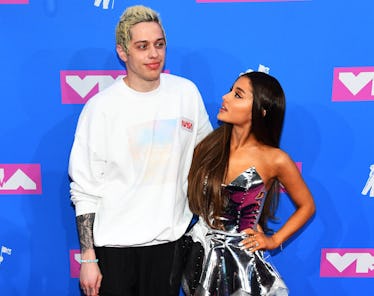 Ariana Grande Just Posted For The First Time Since Her Reported Split From Pete Davidson
Nicholas Hunt/Getty Images Entertainment/Getty Images
Ariana Grande and Pete Davidson are reportedly donezo, but neither of them has confirmed or denied the reports themselves. TMZ reported on Sunday, Oct. 14, that the timing of their relationship wasn't good, and People reported the whole whirlwind romance was "way too much too soon." Elite Daily reached out to Grande and Davidson's teams previously for confirmation of their breakup, but did not hear back by the time of publication. Both stars have been radio silent in the midst of the reports (which they're completely entitled to be), but Ariana Grande's first Instagram since breaking up with Pete Davidson is here. And it... reveals nothing about their reported breakup. And yet, it's pretty encouraging.
If you're a theater kid like me, you are going to freak out about this news because it involves Ariana Grande and Wicked. Yes, you read that right. Ariana Grande. Is. Singing. Songs. From. Wicked. Grande announced on her Instagram that she's performing in a concert celebrating the 15-year anniversary of Wicked opening on Broadway. According to her post, she will be performing "The Wizard and I," aka one of the show's most iconic songs that has made a pass time out of people looking for the best "Wizard and I" riffs on YouTube. Given the fact that Grande has one of the most wicked voices in the stratosphere (see what I did there?), the idea of her belting and riffing her face off to this song has me literally screaming internally with giddy theater-kid joy. Nothing — I repeat, nothing — makes me happier than when Ariana Grande reminds the world that she got her start as a theater kid. One of us! One of us!
I will definitely be tuning in for A Very Wicked Halloween. Check out Ariana's post hyping the event below:
Her caption on the post said, "honored to be included in this celebration of 15 years of my favorite musical of all time 💚 wouldn't miss it for the whole universe #wicked15." Sure, some of you non-theater people may be bummed that her first Instagram post-reported-breakup isn't about Davidson, but this news is personally bringing me a lot of joy!! Thank you, Ariana! Please record this song so I can hear your magical Elphaba riffs for the rest of time! It's also super encouraging to know that Grande is finding joy in her work these days despite everything.
Grande and Davidson's relationship reportedly came to an end this past weekend. A source told People that their relationship and flash engagement "was way too much too soon," adding, "It's not shocking to anyone." If Grande does end up performing during the Wicked live televised event, it could mark her first performance since Mac Miller died on Sept. 7 and since her and Davidson's reported breakup. She was set to perform at a cancer benefit on Saturday, Oct. 13, but she backed out due to personal reasons, according to her manager, Scooter Braun.
"A Very Wicked Halloween" is going to be broadcast live on Monday, Oct. 29, on NBC and will feature performances from original Broadway cast members Idina Menzel and Kristin Chenoweth (oh my god!!!!), Pentatonix, and Grande, as well as the current cast of the Broadway show. Now, that's a full two weeks from now, so we'll just have to wait and see what kind of Ari and Pete updates await us until she appears at the NBC live event.