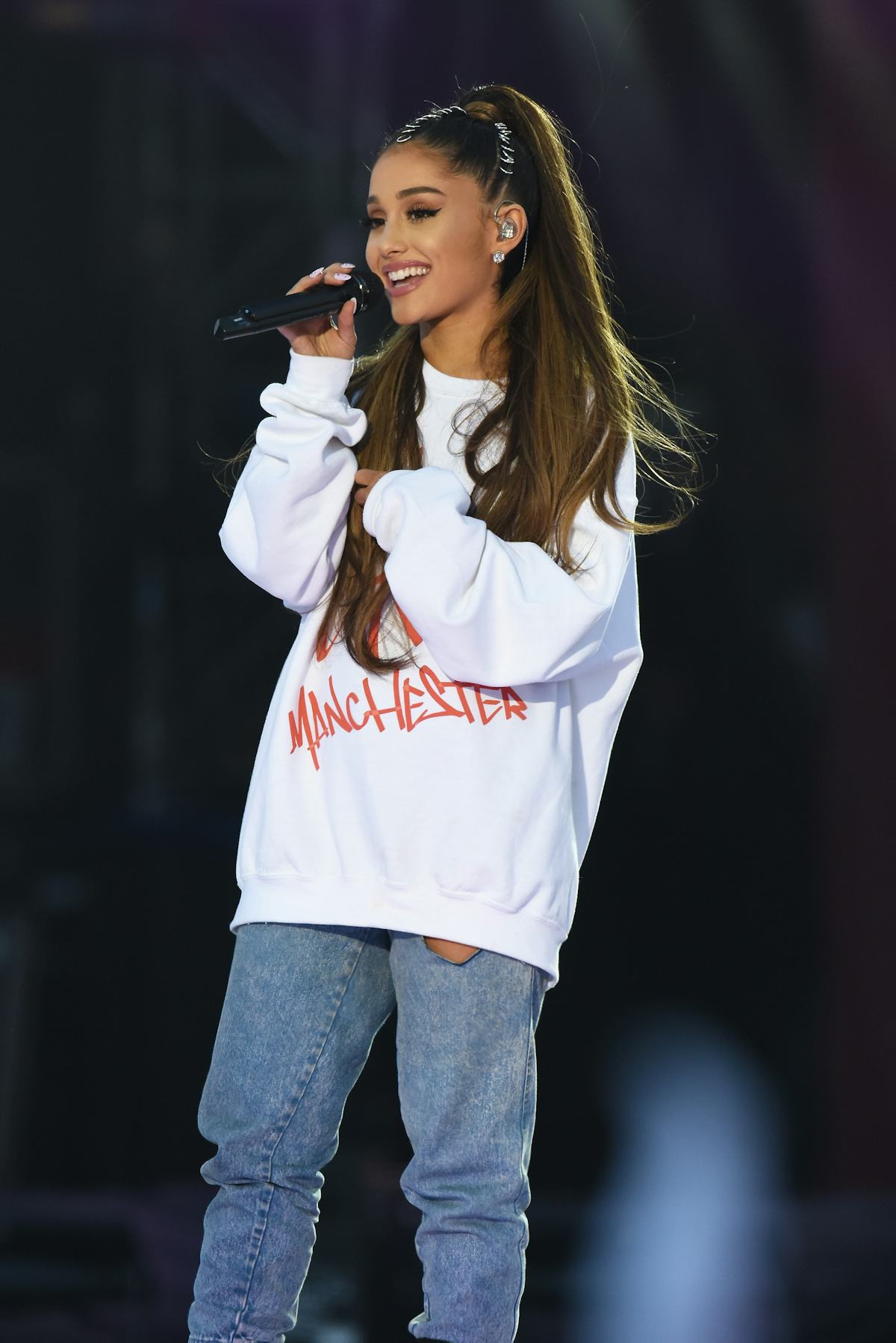 Ariana Grande's DWT Urban Outfitters Merch Will Unmask Your Dangerous Woman On The Cheap
Getty Images/Getty Images Entertainment/Getty Images
Forget about any band tees you currently own, because Ariana Grande's DWT Urban Outfitters merch is about to blow them out of the water. Not only is every single piece within the offering actually really cool (I say this as someone who is pretty much ambivalent towards Grande, so I'm not lying), but they're also pretty affordable and accessible, unlike a lot of other merch drops by big name stars.
As I'm sure you've already figured out, DWT stands for Dangerous Woman Tour, which Ariana embarked on earlier this year in support of her 2016 album by the same name. After performing 85 shows all over the world, Ariana recently wrapped up the tour in September — but that doesn't mean it can't continue on in sartorial form.
Dropping in Urban Outfitters stores tomorrow, Dec. 8 at 5 p.m. EST, and on the brand's site on Dec. 11, the nine-piece merch collection offers everything from cool hoodies and cozy sweatpants to long sleeves shirts and a sleek anorak. Surprisingly, cat ears are lacking from the line, but there's always next year. The items range from $34-$299 which isn't bad, considering the cheapest piece of Kanye's Saint Pablo merch, a tee, retailed at $55. Even better, you won't have to miss any part of a (or an entire) concert to cop one of these items.
The most recent merch craze surfaced in 2013, after Kanye West commissioned artist Wes Lang to design graphics used on his Yeezus tour merch. Stylistically, they recalled '80s and '90s band tees, with lettering reminiscent of Metallica's logo. They sold out at alarmingly fast rates, signaling a renewed interest in artist branded clothing.
Since then, other performers with the likes of Justin Bieber and Rihanna have also realized the power in cutting edge merch, and have come out with ubercool offerings of their own. Now, it's Grande's turn.
As I mentioned, I don't listen to her music on the reg. Yes, I know her biggest hits (she's had eight break into the top 10 on the Billboard Hot 100 chart thus far), but beyond that my knowledge of her music is limited. Usually, when I buy a band tee, it's for an artist that I'm super into and have actually seen in concert. But Grande's merch is legitimately so well designed that I just might need to make a purchase exception.
Check out a selection of the collection below and scope out which pieces you'll be grabbing come tomorrow night.
These sweatpants literally say "ZERO F*CKS". I can't imagine a more appropriate phrase to put on sweatpants, the aesthetic symbol of literally not giving a f*ck. Yes, girl.
I'd rather battle a rainstorm in this anorak than with my flimsy umbrella or trash bag rain poncho any day. Again, loving the "ZERO F*CKS" mantra it's emblazoned with, and built-in fanny pack/pouch pocket. I think this is the piece that would make me feel dangerous AF.
This hoodie is streamlined tour merch at its finest. Cool graffiti-like lettering on the front adds a nice stylistic touch, while the back is emblazoned with a list of every city Grande visited on her Dangerous Woman tour. So even if you weren't really there, you can pretend like you were.
I'm so into this long sleeved shirt! The bubble lettering down each arm remind me of the early aughts (I remember stenciling my name over and over in bubble letters) and the graffiti overly on the image gives it a more artistic edge. All of this plus accents of millennial pink? Sold.
I think this piece has to be the poster child for the entire merch collection. It features Grande in the now-iconic rabbit hat she wore in the music video for "Dangerous Woman," so it's only right.