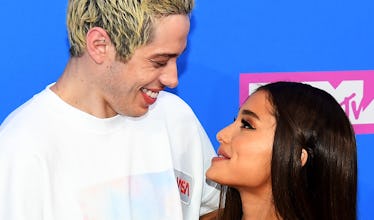 There's Another Version Of Ariana Grande's "Thank U, Next" Where She Ended Up With Pete
Nicholas Hunt/Getty Images Entertainment/Getty Images
We already know Ariana Grande's "Thank U, Next" is an instantly-iconic break-up anthem packed with references to a bunch of her ex-boyfriends. What we didn't know is that she actually recorded not one, but two alternate versions of the song that shed light on the rocky nature of her relationship with Pete Davidson. The pop star rolled up to the Zach Sang Show on Feb. 9 to chat about the album for 83 whole minutes, you guys! And Ariana Grande's comments about her rocky relationship with Pete Davidson are actually so revealing. I mean, she pretty much admitted while talking about the "Thank U, Next" track that the two of them were on-again, off-again the whole time!
OK, so here's the deal: The version of the "Thank U, Next" we know and love now is the first one Grande recorded, but she actually recorded it before their public split in October 2018. Apparently, the pair had broken up and gotten back together earlier, prompting her to record another version where she ended up with Davidson.
"In my relationship [with Pete] at the time, things were like up and down and on and off, and so I didn't know what was going to happen," she explained. "And then we got back together, so I had to make a different version of it. And then we broke up again, so we ended up going with that verse. There's a version where I was getting married, there's a version where I'm not getting married, there's a version with nothing — we're not talking about anything. But we all knew that the first version was gonna be the version we ultimately went with."
Watch:
The song dropped on Nov. 3, 2018, and went on to become a No. 1 single, but Grande said she was initially "terrified" for people to hear it because she just knew it was going to be a thing that she had name-checked some of her exes. And that's why she made that third version of the song without any names — the "version with nothing" as she called it above.
"I think I said, 'They say I'm too young. I've got so many boyfriends,'" she said. "I was just talking about what people say about me. It still was like, OK, I'm embracing my mistakes and what I've done and everything that's contributing to who I am, but it was just less direct."
As we all well know, Ari did end up dropping the names, even though she said she felt like it was a big risk to do so.
"I understand that to a lot of people, I'm not a real person," she explained. "But at the end of the day, these are people and relationships — it's real sh*t to me. It is real life and I spent a lot of time with each of those people. It was like scary to put in a song. I knew as soon as people heard the names, they were gonna be like, 'Run that back one more time. What the f*ck is she doing?'"
I totally did that, didn't you?
But scary or not, Grande admitted that the process of getting so personal on Thank U, Next turned out to be a real life-changer. And she credited her tight friendships for helping her turn it all around.
"I made [the album] with my best friends over the course of a really small period of time, and it kind of saved my life," she said. "It was kind of this super challenging chapter that sucked, and then my friends made it amazing and special, and I'm forever grateful for that."
I'm so glad the pop star has such a caring crew surrounding her. New life goal: Find yourself friend group as dope and supportive as Ari's. ,