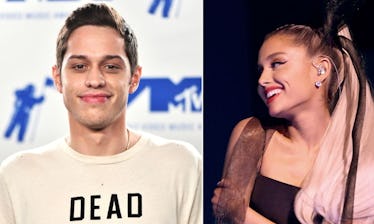 Pete Davidson Revealed How He Proposed To Ariana Grande, Apparently & It's So Underwhelming
ALBERTO E. RODRIGUEZ/GETTY IMAGES; KEVIN WINTER/GETTY IMAGES ENTERTAINMENT/GETTY IMAGES
Ariana Grande and Pete Davidson's honeymoon phase is still in full force (and what that means to you definitely depends on how you feel about the couple). The pair has been the center of celebrity attention ever since their flash engagement at the beginning of June. Plus, their flirty comments on each other's Instagrams show the two are completely caught up in the whirlwind of their engagement. What isn't so much of a whirlwind is Ariana Grande and Pete Davidson's engagement story... A Twitter user recently saw Davidson doing stand-up and luckily for us, she tweeted about the experience. The user's tweet revealed the reported story of how Pete Davidson proposed to Ariana Grande, and fam, I don't know what I was expecting, but it sure as hell was more than this!
Twitter user @carlyanz7 tweeted this past weekend that she saw Pete Davidson perform, and he apparently dished about his proposal in his set. The tweet said, "I just went to see Pete Davidson do stand up and he said he proposed to Ariana while he was smoking weed in bed." How thrilling.
Elite Daily reached out to Davidson's team to confirm the details of how he proposed, but did not hear back by the time of publication. But if this is true: wow. Listen, Ariana Grande is a damn queen and I know Davidson knows that, but come on. What a boring proposal. To each their damn own, I guess, but considering how much of a speed racer their relationship has been, I imagined Davidson would propose to Grande in a much grander fashion.
Look, they can do whatever makes them happy. I'd be freaking giddy to learn that it was Grande who proposed to Davidson. But even if that were the case, I'd still be bored as hell to hear that she proposed to him while smoking in bed. Where's the creativity?!
People are shook by the reported way Davidson popped the question to Grande.
One Twitter user responded to the tweet criticizing Davidson for name-dropping Grande in his set.
They said, "Why is he always dropping Ari's name in his stand up routines? Such a clout chaser." Um, OK? That's, like, objectively fine. They're engaged. The woman who tweeted the engagement story responded to this tweet revealing that the story wasn't actually in his set — it was part of a Q&A following his performance. "He actually never mentioned her in his routine!" the tweet said. "He did a Q and A session at the end and my friend asked him how he proposed :)."
The user noted though that it could've just been a joke, for all she knows. She's not 100 percent sure if Davidson's story was legit.
I'm going to go ahead and assume Davidson was telling the truth because he's known for being blunt, smoking blunts, and also being so excited about how "lit" his life is right now that he just doesn't care who knows it. All fair. If I were engaged to Ariana Grande I would feel the same damn way. But again... the fact that he's so in love with everything in his life right now only proves my point even further that the way he proposed is surprisingly tame. Whatever! I'll get over this eventually!
In the meantime, Grande and Davidson have about had it with social media and are both taking a break from Instagram. If you were getting sick of all of their flirty comments to each other on every. Single. One. of their Instagram posts, your prayers have been answered. (Temporarily.)