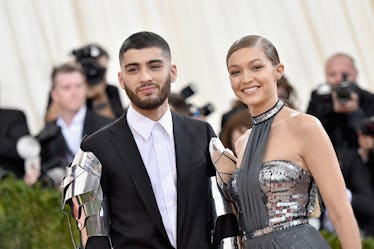 Zayn Malik Just Clarified His Relationship Status With Gigi Hadid & OMG, There's Hope
Mike Coppola/Getty Images Entertainment/Getty Images
Whatever you're doing right now, stop. You're going to want to pay attention, because there's finally an update on one of our (aka my) favorite on-and-off-again celebrity couples, Zayn Malik and Gigi Hadid. After breaking things off in March, and then confusing us all with their PDA and adorable Instagram pics, we finally have an answer to the question we've all been wondering: Are Zayn Malik and Gigi Hadid together? And the answer is (drum roll)... yes-ish.
OK, so maybe that's not the super definitive answer you were hoping for, but here's the good news: We did get some clarification on the current state of their romance from Malik in his recent GQ cover story. When asked about the status of their relationship, Malik kept hope alive with this admittedly vague, but still hopeful answer: "We're adults. We don't need to put a label on it, make it something for people's expectations." That doesn't sound like they're not together to me. Plus, he went on to gush about the supermodel throughout the interview, lavishing praise on Hadid and describing the positive influence she has had on his life, specifically around the time of his first solo album release.
"I had a very negative outlook on things," he told GQ. "That might have been adolescence or testosterone or whatever the f*ck was running through my body at the time," he told GQ. "She's helped me to look at things from a positive angle." That's something, it seems, he wasn't ready to let go of despite the couple's public dramatic breakup just a few months ago.
For those who haven't been following this couple's ups and downs, they first met and began dating in November 2015. At the time, Hadid had just ended her relationship with Joe Jonas and Malik had ended his engagement to Little Mix's Perrie Edwards. Malik told GQ about how they met, saying it was at a party, and shortly after he reached out to her and they met for dinner at The Bowery Hotel in New York City. The couple was soon spotted everywhere — in the tabloids, on social media, on magazine covers, and even getting extra steamy in Malik's "Pillow Talk" video. They were basically an it-couple until they split in March, with both confirming the breakup on Twitter. But apparently, that breakup wasn't the end for Hadid and Malik, because only a month later, they were spotted by the paparazzi showing some serious PDA, and Malik began popping up on Hadid's social media again.
But that's not all. (And this may actually be the clearest indication that this couple is probably back together.) According to the GQ interview, Malik recently bought a farm in rural Pennsylvania near the Hadid's house, where Malik and Hadid keep their horse named Cool. Listen, nothing says "serious" like buying real estate. And what does this (probably a) couple get up to on their farms? Here's how GQ describes it: "He's just getting things going on the farm, but already there are crops of cherries, tomatoes, and cucumbers. He likes to ride his ATVs. Sometimes he and Gigi will go at the same time, and she'll ride a horse, like Cool, while he watches."
Sounds pretty cozy to me. While the duo are currently not "defining" the relationship, GQ also noted that Malik repeatedly referred to he and Hadid as "we" in the present tense, and described his tone whenever he spoke about her as "a purely misty-eyed, worshipful tone." Safe to say, there's plenty here to give Gigi/Zayn stans all the hope in the world that they are back together and their future is bright.
Check out the "Best of Elite Daily" stream in the Bustle App for more stories just like this!