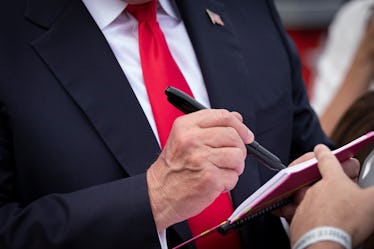 The White House's Nondisclosure Agreements Might Not Be As Effective As It Hopes
Alex Edelman/Getty Images News/Getty Images
Since former White House staffer Omarosa Manigault started leaking tapes she allegedly recorded secretly during meetings, the Trump administration has been up in arms. As of recently the administration has claimed that Manigault, along with a few other staffers, signed nondisclosure agreements (NDAs) during their time in the White House, leading them to condemn Manigault even further. So, are the White House NDAs enforceable? Only in special circumstances.
On Aug. 14, the Trump campaign filed an arbitration case against Manigault alleging that she violated a confidentiality agreement that she had signed in 2016. But despite the lawsuit, Manigault might not have a lot to worry about, given that experts are saying that the NDA might not be enforceable.
According to Washington lawyer Mark Zaid, nondisclosure agreements for government workers like White House staff are truly only enforceable when they are in regards to classified information. Zaid wrote in The Washington Post that attempting to enforce NDAs for government workers beyond the scope of classified information is "unconstitutional on their face." In this case, the main reason why Donald Trump criticized his former Director of Communications for the Office of Public Liaison Omarosa Manigault was because she publicly talked about the experience working with him during his election campaign and first few months in the White House. But, since she's only mentioning his personality and her experience working with him, and not discussing any confidential information, it doesn't look like the NDA could be enforced under Zaid's standards.
Legal expert and University of Florida professor Mark Fenster also told The Washington Post on Aug. 15 that since Manigault wasn't working for a private company, the NDA is not credible. Fenster said,
She was no longer working for a private entity or person. It's not the Trump Organization or NBC or the campaign that's trying to enforce the NDA. It's the U.S. government. Trump views it as the same thing, but she wasn't working for him, she was working for the White House."
Manigault released her long-anticipated "tell-all" book Unhinged on Aug. 14, and in the book the former White House staffer reportedly refers to Trump as a "racist, a misogynist and a narcissist."
On Aug. 14, White House Press Secretary Sarah Huckabee Sanders spoke to reporters about the news of the White House requiring staffers to sign NDAs. Although she avoided reporters' questions as to whether she herself has signed an agreement, she assured the crowd that it's "common" for government employees to sign NDAs. She said,
I'm not going get into the back and forth on who has signed an NDA here at the White House. I can tell you that it's common in a lot of places for employees to sign NDAs, including in government, particularly anyone with a security clearance.
While it's common for employees to sign these agreements in order to protect confidential information, it's pretty unusual for the White House to try to implement contracts to protect the president's reputation, according to Slate.
Zaid and Fenster aren't the only figures who believe this nondisclosure agreement won't hold up — even members of Trump's own campaign doubt it. Donald Trump's former campaign manager Corey Lewandowski spoke to reporters on Aug. 15 about the NDA and said he doubts employees "will be held accountable" since no classified information has been shared. He reportedly told reporters,
I just don't know if they're valid whatsoever. Other than the disclosure of classified information, which is a crime in and of itself, I don't know how you hold a public employee, a government employee, accountable to a non-disclosure agreement. I don't know how that's enforceable whatsoever.
Lewandowski has shared in the past that he was required to sign a nondisclosure agreement in 2015 when he signed onto the Trump campaign. The former campaign manager told a crowd at a press breakfast in Washington D.C. on Aug. 15 this is just Trump's typical route to take through all of his business deals, and he continued that practice into the White House, so it's not clear if Trump realizes this is quite a different business to be in.
Another day, another exciting new development unfolding within the Trump administration. Who knows what else will happen in the days to come, but it looks like not much will be done with those NDAs for now.