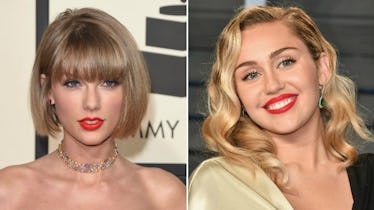 Miley Cyrus Might Have Shaded Taylor Swift, But They Used To Be Cool Based On These Quotes
Jason Merritt/Getty Images Entertainment/Getty Images | Dia Dipasupil/Getty Images Entertainment/Getty Images
Taylor Swift and Miley Cyrus are two of the biggest stars in pop music. They're both talented gals with country origins and a penchant for making waves with their music. But are they cool with each other? While they've each had their share of opportunities to connect (on the stage, on movie sets, on the red carpet, etc), you rarely hear about them hanging out with each other. Actually, more often, you hear about Cyrus throwing shade at Swift, like she supposedly did on Saturday, July 21, when she liked an Instagram meme that threw shade at Taylor. So, are Taylor Swift and Miley Cyrus friends?
Swift and Cyrus may not exactly be best buds, but they're probably friendly with each other, right? Not so fast. I've done some digging around to get the scoop on these pop icons and found some pretty solid evidence that they're not really all that friendly.
Here's what I found:
They Started Out OK
All the way back in 2009, when Cyrus was still doing all that Hannah Montana jazz, Swift actually made a brief appearance in Hannah Montana: The Movie. In the film, she plays her guitar and sings on stage in the background of a scene between Cyrus and her dad Billy Ray Cyrus.
It's not exactly a starring role for Swift, but it at least proves she and Cyrus on the same movie set at some point.
This how it went down in the film:
That same year, Cyrus and Swift performed at the Grammy's together. And they were actually amazing. Here's how that went:
They were all smiles and really giving off some great vibes.
Then, in 2014, Swift sat down for an interview with Tout Le Monde En Parle, a Canadian talk show, during which she said really nice things about Cyrus. When asked what she thought of Cyrus' controversial onstage behavior, Swift said this:
Honestly, I think that I cheer on anybody who is living their life on their own terms and wearing what they want to wear and representing what they want to represent. I think that no other female artist should be able to tell me to wear less clothes and I'm not gonna tell any other female artist to wear more clothes. You know what I'm saying? As long as it's their idea, and they're expressing their sexuality or they're expressing their strength or it makes them feel like a woman to perform a certain way or dress a certain way. I just think that as long as it's coming from them and they're living their life on their own terms, I cheer them on.
So, where did things go wrong if they were so supportive of each other all those years ago?
There Was Bad Blood In 2015
Things started to go downhill when Cyrus had some choice words about Swift's video for "Bad Blood." This video, which explores themes of violence and revenge, apparently rubbed Cyrus the wrong way. In a September 2015 interview with Marie Claire, Cyrus explained her stance on the video:
I don't get the violence revenge thing. That's supposed to be a good example? And I'm a bad role model because I'm running around with my titties out? I'm not sure how titties are worse than guns.
It sounds like Cyrus was irritated by the idea that she was labeled as a bad role model for owning her sexuality, while Swift was painted as a good girl even though she was promoting violence. Those double standards are a pain, aren't they?
If that wasn't enough, Cyrus also had some things to say about Swift's Hollywood clique, which included people like Selena Gomez and Karlie Kloss.
In a 2015 interview with The New York Times, Cyrus said she had no interest in being part of that scene:
I'm not trying to be in the squad. None of my friends are famous and not because of any other reason than I just like real people who are living real lives, because I'm inspired by them.
Then, in July 2018, Cyrus seemingly shaded Swift's entire career by liking a meme on Instagram.
Here's the meme:
And here's the photographic evidence that Cyrus isn't exactly on Swift's side:
So, all in all, it kind of sounds like they're not terribly friendly at this point. Too bad; they could've made some interesting music together.