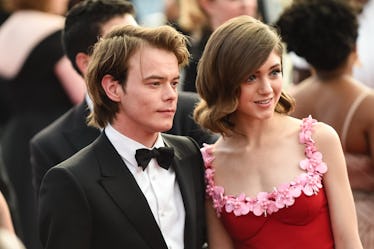 Nancy & Jonathan From 'Stranger Things' Might Be Dating IRL & We're Here For It
Emma McIntyre/Getty Images Entertainment/Getty Images
Everyone's favorite 1980s throwback TV show, Stranger Things, had the entire world talking and screaming, and we still can't shut up about it. It was hands down one of the most addicting shows on Netflix, and the actors were surprisingly phenomenal. Who knew a creepy kids show about monsters would be so fantastic? Most certainly not me. A lot of buzz isn't the only thing that came from the hit series... a relationship was born. On-screen fling Nancy Wheeler and Jonathan Byers from Stranger Things might be a thing! So, are Nancy and Jonathan from 'Stranger Things' dating IRL? On Oct. 3, 2017, Natalia Dyer and Charlie Heaton were spotted holding hands! Can we just call them an official couple already?
That's right. The 20-year-old actress, Dyer, and 23-year-old British actor, Heaton, were holding hands in the streets of NYC! Can you believe it? Nancy didn't end up with Steve in the end; she ended up with Jonathan. She was way too good for shallow Steve, anyway. I blame him for Barb's death. Although the pair has yet to confirm any dating rumors, we can all agree that holding hands is a big freakin' deal. Nancy and Jonathan possibly dating is almost as exciting as season two of Stranger Things.
The relationship rumors all started back in September of 2017, when Dyer posted a photo of Heaton holding several colorful birds. Although the photo was seemingly friendly, fans believed it meant more. She wrote,
Wow congrats @charlie.r.heaton on his new one man show Stranger Wings!! Sure gonna miss you s2 but happy you're doing what you love.
Heaton also posted a cryptic IG photo wearing women's shoes with the caption,
@nattyiceofficial Need my converse back!
Why does he have her shoes? Why does she have his Converse? It could only mean one thing... they must be dating. Heaton posting this photo made fans believe they were more than friends. It may not actually be true, but this small token of evidence is key in our deep investigation of their relationship.
Remember this adorable moment from the AFI Awards on Jan. 6, 2017? The pair was spotted sitting together and showing off their matching certificates of achievement. They're too cute together! They must be in love.
This jaw-dropping pair stunned on the red carpet of the 23rd annual Screen Actors Guild Awards in Los Angeles on Jan. 29, 2017. Hey, we all know an appearance on the red carpet in front of thousands of photographers is some sort of statement. Whether that statement is a respectful and professional friendship or a love affair... I just don't know.
Dyer and Heaton at the MTV Movie and TV Awards look sexy and suave together, arm in arm. The Shrine Auditorium in Los Angeles, where the awards were held, could not hold in their heat. Damn, y'all.
Although Dyer is a private person in real life, she is certainly not shy about her role as Nancy in Stranger Things. When asked about the dynamic between Nancy and Jonathan in an interview with Teen Vogue in October of 2016, the star said,
I will say that, in the original pilot, Jonathan was the clear choice because Steve was just such a jerk. They ended up rewriting it because Joe is a very charming, nice guy and he's just too likable. They wanted to keep him around and explore his character. So she ends up with Steve at the end, and I think that's where she should be. I'm not going to deny that there's obviously some kind of chemistry between Jonathan and Nancy. I don't think either of them know what it is, but I'd be excited to see where that goes in season two. We'll see. Again, I literally have no idea.
Of course, "There's obviously some kind of chemistry between Jonathan and Nancy." Obviously. I can't wait for season two, and I can't wait for Nancy and Jonathan to date IRL! It's about time.
Check out the entire Gen Why series and other videos on Facebook and the Bustle app across Apple TV, Roku, and Amazon Fire TV.