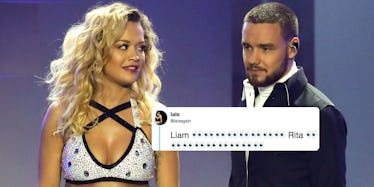 Twitter Thinks Liam Payne & Rita Ora Are Dating After They Got Cozy At A Concert
Andreas Rentz/Getty Images Entertainment/Getty Images
Just ahead of his album release, Liam Payne is sparking romance rumors once again. While it's been reported that he's dating model Cairo Dwek, he's now been linked to singer Rita Ora. In a video published by the Daily Mail, Payne and Ora can be seen hugging it out and dancing backstage at the MTV VMA kick-off concert that happened on Sunday, Aug. 19. So, are Liam Payne and Rita Ora dating? Not if their fans have anything to say about it. Elite Daily reached out to Payne's team for comment on Payne and Ora's relationship, but has not heard back at the time of publication.
When the Daily Mail broke the story, fans quickly dismissed the potential relationship as pure gossip. The reason? Well, there are a few. Firstly, as previously mentioned, there's the fact that Payne was recently seen getting cozy with model Cairo Dwek in Italy.
The second reason is that Ora is said to be involved with a man named Andrew Watt, at least according to fans. So, the likelihood of a Payne-Ora relationship is probably not very high.
But even so, the video published by the Daily Mail definitely shows Payne and Ora looking very comfortable with each other. In the video, Payne stands behind Ora with his arms around her shoulders as they sway to some music. The footage was obtained by the Daily Mail from a fan named Michal Jacobs, who explained the scene to the publication:
I was standing right at the front and at the end Liam and Rita were standing by the side and dancing together. They were standing there talking, laughing, smiling and dancing. She was in front of him and his arms were wrapped around her. It definitely could have been something romantic but they didn't kiss or anything. It was during the song "Meant To Be" and they were just dancing and laughing with each other. He was holding onto her and his hand was on her neck. I was with two friends but people weren't really noticing. They were clearly enjoying the performance
Sounds pretty romantic, if you ask me. Whether they're dating or not, the whole scene could definitely be misconstrued as romantic, which is what has fans going off about it in the first place.
Given Payne and Ora's popularity, their respective fans are understandably going wild on social media about their alleged relationship. Here's what fans are saying right now on Twitter:
Some fans are not exactly happy about what the video could mean for Payne and Ora:
Later on during the concert, Payne and Ora performed their hit "For You" from the Fifty Shades of Gray soundtrack. As you probably know by now, that song is a bit on the steamy side, which might give people the impression that there's more going on behind the scene than there really is. Perhaps the two singers were simply getting into good form for their performance. Whatever the case, Payne and Ora have definitely got the fans and media outlets talking.