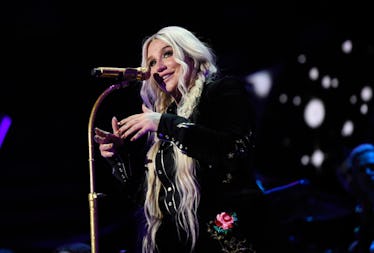 Kesha Said The Sweetest Thing About Taylor Swift, Proves They're Low-Key BFFs
David Becker/Getty Images Entertainment/Getty Images
Kesha has been through a lot, but she has a famous friend who always has her back. In the new issue of Rolling Stone magazine, the singer answered the burning question: Are Kesha and Taylor Swift friends? Turns out, she had the most amazing things to say about her fellow pop star.
When a judge ruled against Kesha's request to be released from her contract with former producer Dr. Luke's label, the singer received some major celeb love, with Adele mentioning Kesha in her Brit Awards speech, and Demi Lovato, Lady Gaga, and so many others tweeting in support of the singer. And then there was Swift, who donated $250,000 to help Kesha pay for legal expenses.
That generosity isn't lost on Kesha, who called Swift "a f*ck*ng sweetheart," adding that she's "Very, very sweet, very, very genuine, extremely generous, picks up the phone every time I call her. My mom doesn't even always pick up the phone!"
Kesha tweeted her support of pal Swift during her sexual assault trial:
Amazing.
But don't expect Kesha to weigh in on any of Swift's feuds or controversies, as she remarked: "I'm not really up on my pop culture. Should I know something about it? I live in my record player." Oh god, how much do you love her ability to stay out of the drama?
And it's not just famous friends who have helped her through tougher times: she owes a debt of gratitude to her fans, telling the magazine: "I don't know what I did to deserve such wonderful people in my life."
As for the Rolling Stone cover, Kesha was emotional about the honor, telling the interviewer: "It was my dream since I was a little kid. I had Rolling Stone covers all over my bedroom at my mom's house. They're grateful tears. They're not sad tears."
The singer also noted that she's an open book, explaining, "I have nothing to hide. The beautiful, the good, the bad, the ugly, all of it." She also explained the inspiration about one song on her new album, Rainbow, titled "Bastards," which she notes, "just kind of sums up how I feel about mean people. I feel like being nice is not overrated."
Kesha is also very open about her battle with an eating disorder, revealing that she thought she needed to "be a certain size," noting:
I really just thought I wasn't supposed to eat food,. And then if I ever did, I felt very ashamed, and I would make myself throw up because I'd think, 'Oh, my God, I can't believe I actually did that horrible thing. I'm so ashamed of myself because I don't deserve to eat food.' I was slowly, slowly starving myself. And the worse I got and the sicker I got, the better a lot of people around me were saying that I looked. They would just be like, 'Oh, my gosh, keep doing whatever you're doing! You look so beautiful, so stunning.'
Eventually, she got the help she needed and ultimately saved her life, explaining, "I feel like myself for the first time ever. And I made a record I'm extremely proud of, from the bottom of my guts – I excavated the most gnarly lyrics that were so difficult for me. And people still like it!"
Kesha remarked about how therapeutic the new album has been, saying, "It's really beautiful, and it's very healing. I feel like I'm being seen for what I actually am, and people are OK with it."
Her ability to keep it real has always resonated with fans and it's so refreshing to see female stars show such support for one another.
Check out the entire Gen Why series and othervideos on Facebook and the Bustle app across Apple TV, Roku, and Amazon FireTV.