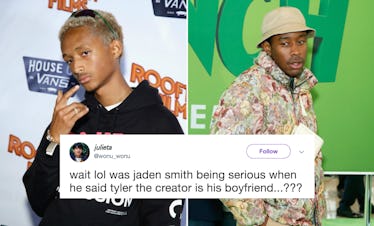 Jaden Smith Says Tyler The Creator Is His Boyfriend, But Twitter Doesn't Know What To Think
Wow, wow, wow. Are people about to ship Jaden Smith and Tyler the Creator? 'Cause it's a big yup from me! People are asking the question "Are Jaden Smith and Tyler The Creator dating?" thanks to a very poignant comment Smith made at a festival performance in California. To just be transparent about it, he called Tyler his boyfriend. Straight up. Fans are having a hard time identifying if there's truth to the statement or if the friends are joking, and it's clear to see why. Smith makes the comment with such fervor, it's kind of hard not to take him at face value. Elite Daily reached out to both Smith and Tyler's teams for comment but did not hear back by the time of publication.
Smith and Tyler were together at Camp Flog Naw when Smith stopped his set to proclaim his love for Tyler. With a ton of noted intention and passion, he exclaimed, "I just wanna say Tyler the Creator is the best friend in the world and I love him so f*cking much, and I wanna tell you guys something..."
Drum roll. Wait for it.
"...Tyler doesn't wanna say, but Tyler is my motherf*cking boyfriend, and he's been my motherf*cking boyfriend my whole motherf*cking life. It's true! Tyler is my boyfriend."
Boom. Mind exploding.
The crowd did go nuts, but you can also practically hear the question marks popping up above their heads like a group of Simms characters.
One fan caught the whole moment on camera. To make things more confusing, Tyler is seen shaking and waving his finger "no."
I don't know. You guys tell me.
Despite Tyler's visual denial, Smith jumped on Twitter to insist he wasn't joking. In fact, he even tagged Tyler, writing, "Yup @tylerthecreator I Told Everyone You Can't Deny It Now."
Tyler actually commented calling him "crazy."
Obviously, everyone is wildly confused. If it's real, fans are all for it. People just don't want to be tricked, you guys!
According to People, neither man has "explicitly labeled their sexuality" though Tyler has rapped about kissing guys and once tweeted about trying to come out. In 2015, he posted, "I TRIED TO COME OUT THE DAMN CLOSET LIKE FOUR DAYS AGO AND NO ONE CARED HAHAHHAHAHA."
As for Smith, he's been vocal about wanting to avoid labels. In 2016, he was the first man to front Louis Vuitton's womenswear campaign and talked to British GQ about traditional gender norms.
"I feel like people are kind of confused about gender norms. I feel like people don't really get it," he explained. "I'm not saying that I get it, I'm just saying that I've never seen any distinction. I don't see man clothes and woman clothes, I just see scared people and comfortable people."
Reportedly, Tyler's rep had no comment regarding his relationship status and Smith's people did not respond to People's request for comment either.
Look, whatever. I don't need confirmation to put these two on a power -couple pedestal. They're already there in my heart.
Standing by for more deets, guys! We out here.