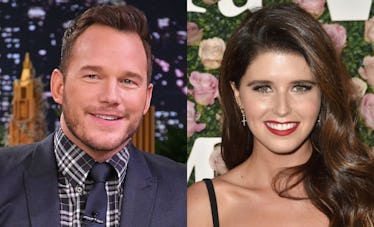 This Chris Pratt & Katherine Schwarzenegger Relationship Update Means Things Are Serious
Mike Coppola/Frazer Harrison/Getty Images
Chris Pratt and Katherine Schwarzenegger's relationship is getting really serious. They've been dating for less than six months but those close to them reportedly think they're "a match made in heaven." So, are Chris Pratt and Katherine Schwarzenegger in love? According to a new report, they are, and very much so. Elite Daily reached out to Pratt and Schwarzenegger's teams for comment on the report, but did not hear back by the time of publication.
When reports of the couple's relationship first surfaced in June, sources said they weren't dating seriously. After Pratt and Schwarzenegger were seen on a picnic together in June, a source told People that Pratt hasn't "dated anyone seriously after he separated from Anna," but "he has been on dates," which made their date seem more casual than a serious thing.
A source told Entertainment Tonight, however, that the pair has had a connection since day one. "The moment Chris and Katherine started dating," the source told the outlet, "everything fell into place and they seemed inseparable. They just love each other's company and have so much in common."
The source noted that the two are always together and that Schwarzenegger's family loves their relationship. "They spend a great deal of time together," the source said. "Chris and Katherine have the full support of her family and Maria [Shriver] feels they are a match made in heaven." Schwarzenegger met Chris Pratt and Anna Faris' son, Jack, back in July, and the dynamic between the three adults has apparently been smooth sailing. "Chris and Anna are going to continue to communicate, and Chris and Katherine seem very much in love. They are all adults and are truly a good group of people," the source said.
So it looks like these two are far from dating casually.
David Livingston/Getty Images Entertainment/Getty Images
Frazer Harrison/Getty Images Entertainment/Getty Images
Ever since Pratt and Faris announced their split in August 2017, they've made it clear their top priority in the midst of all of it was making sure Jack felt comfortable with his new family dynamic. "Chris is dedicated to co-parenting and he's a huge support to Anna," the source said. "Their break wasn't easy and they both want to be the best parents they can be. Chris is dedicated to juggling career, family and Katherine."
Faris and Pratt seem to have their co-parenting routine pretty much down, as they've maintained a reportedly super positive friendship throughout the process of their split and the life adjustments thereafter. Jack started kindergarten this year, and Faris told the women of The Talk about her mom guilt over the lack of anxiety she felt when she and Pratt dropped their son off on his first day. "Chris and I walked him there and we were trying to not, you know, transfer any hint of anxiety — not that I was having it, clearly," she joked. "I was like, 'I gotta get to work, kid! [Jack] just ran in. He was like, 'Bye guys!'" She said she felt the guilt because she felt the moment "should emotionally tug at me more than it [did]," but she, Pratt, and Jack all handled the big day really well. Honestly, it seems like Anna Faris, Chris Pratt, and Katherine Schwarzenegger have their whole dynamic down to a science.