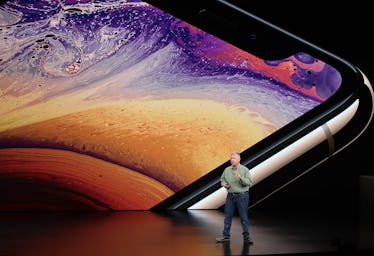 Your iPhone Notifications Are About To Become Less Annoying Thanks To iOS 12
Justin Sullivan/Getty Images News/Getty Images
Well, be still my organized heart, because iPhone notifications are about to get way less annoying thanks to a recent software update. If you've ever left your iPhone unattended for a certain period of time, you know that notifications can rack up quickly. Apple's iOS 12 update makes sorting through iPhone notifications so much easier now. I personally can't stand a cluttered phone screen, so this new feature is a welcomed change.
Apple is revamping how notifications are viewed on iPhone and iPads devices. Instead of listing out each notification individually, the short messages will be grouped by topic or app. So, if a friend sends you several Instagram messages or pics on Snapchat, the notifications will be sorted together instead of displayed one-by-one. To view all of the notifications within a group, click on the top alert. This will expand all of the notifications so you can view each one independently. When you're done viewing, click "Show Less" to minimize the notifications or click the "X" to remove them from your Notification Center altogether. The new look is included in the iOS 12 update that is currently available for download for all Apple users.
If you aren't receiving notifications at all, well, then it's time to get you all set up. While notifications can be annoying, they are useful. The bulletins will help you keep in touch with everything that's going on when you're not plugged in.
To turn on notifications, navigate to the settings folder on your Apple device. About halfway down the page, you will see a red icon next to the word "Notifications." Click to open up the Notifications folder. This is where you can control which apps you want to send you notifications and which ones you do not. You can also choose whether or not you want your device to display notification previews when your phone is unlocked, all of the time, or never.
Apple is also putting you in control of how you view and receive your notifications. Instant Tuning is a new feature in iOS 12 that lets you manage your notifications as they come in, according to Apple. You can do this right from your phone's lock screen, as well as send notifications from an app to the Notification Center, or totally shut them off.
Hold down on the notification to open it up. Click the three dots in the upper righthand corner of the notification. This will open up a couple of options to help you better manage your notifications. You will be able to select "Deliver Quietly." This option delivers the notification to the Notification Center without causing a ruckus (aka playing a sound or popping up as a banner). Or, you can just click "Turn Off" so that you don't receive additional notifications related to this app.
Prior to updating my iPhone, I used to get bombarded with endless notifications. I constantly felt like I was clearing notifications just for 10 more to show up.
Now, don't get me wrong. I really love that my iPhone sends me important notifications (like when it's almost time for Starbucks' Happy Hour). These brief but cumbersome bulletins keep me up-to-date with the latest headlines, upcoming weather forecasts, and when my BFF decides to tag me in a gazillion different memes on Instagram. But, I just really don't like when I have to scroll through all of my notifications. Half the time I'm just skimming them anyway, but that's all changing now thanks to the iOS 12 update.
I know there are a lot of fun new features included in iOS 12, but being able to better manage my notifications just may be the best one yet.