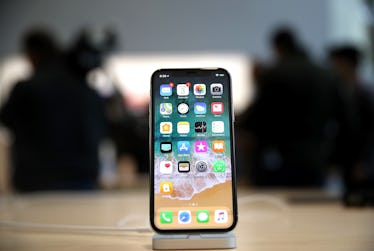 Apple Might Be Releasing A "Foldable iPhone," So Welcome To The '90s
Justin Sullivan/Getty Images News/Getty Images
It's not all that surprising to hear about Apple designing a new smartphone. Seeing as though the tech giant usually churns out a new version of the ever-popular iPhone every fall, you'd expect that these phones are constantly in development. The latest rumor about Apple's beloved iPhone will definitely give you some throwback vibes. Apple might release a foldable iPhone in 2020, and it will probably give you some major '90s flashbacks.
If the first thought you had after learning of this new development is that a "foldable" phone sounds very similar to a flip phone, then join the club. Before you start digging around your high school memory box for your pink Motorola Razr, though, it appears that this reported foldable Apple phone will be a little more advanced than that. Per CNBC, Wamsi Mohan, a Bank of America Merrill Lynch analyst, wrote in a note to clients on Friday, March 23 that said, "Our checks also suggest that Apple is working with suppliers on a foldable phone (that potentially could double up as a tablet) for launch in 2020."
Mohan was able to share these reports after meeting with multiple Apple suppliers in Asia, so this news of a possible Apple foldable phone might just be a 2020 reality. Unfortunately there are no mock-ups of what this foldable phone might look like, and (try as I might) I cannot stop picturing it as a Razr.
This latest news isn't the only information of a possible foldable phone from Apple. Back in October 2017 it was reported that Apple had contacted LG to assist them in the production of a foldable phone, according to The Investor. An LG task force was reportedly created on Oct 11, 2017 "to develop a foldable OLED screen for the new iPhone model." The presence of a task force makes this sounds legit AF to me, and I kinda can't wait for this seemingly '90s-inspired phone to reportedly arrive in 2020.
I do find it very interesting that these reports use the word "foldable" instead of "flip," but they pretty much mean the same thing when it comes to opening up your phone, right?
If you're thinking that 2020 is too far away for you to relive your glory days with your Razr, there is actually a really good reason for the more than two years away release date. According to 9to5Mac, there is a lot of technology that needs to be developed in order to have foldable phones that actually fold and function properly. Apparently, Apple's introduction of the OLED screen with the iPhone X is a good first step toward a foldable phone, since the OLED screens are made up of independent pixels that are more flexible than LCD screens.
Beyond the flexible screen that will make sure your phone doesn't shatter into pieces when you slam it closed after losing a tough game of Bejewled, the internal phone components also require added flexibility to function properly in a foldable phone. It appears that Apple is on top of that, too, because the October 2017 report from The Investor shared that LG's sister firm LG Innotek is in charge of "developing the rigid flexible printed circuit board."
Even though it may seem like Apple is making all the right moves to make your flip-phone dreams come true, 9to5Mac still reported that there are many demands of new phones, like "pressures to continue making devices prettier, thinner and more powerful," that seem tight to fit within the reported two-year time frame. Plus, since it's reported that the phone is supposed to double as a tablet, I assume there's plenty of tinkering that needs to be done to make that happen.
Whether or not the reported foldable Apple phone will be released in 2020 is obviously up to Apple and the news they choose to share with their customers, but these new reports make it seem like more of a reality than not. We'll also have to wait and see if Apple caves and calls them "flip phones."
In the meantime, Bank of America's Mohan also shared that the iPhones expected for release in the fall of 2018 should be "largely unchanged for the OLED versions..." So if you're desperate for a new iPhone, you can still likely upgrade to the version that's planned to be released toward the end of 2018. As for your newly ignited dreams of an Apple foldable iPhone, keep holding on until 2020 (hopefully).