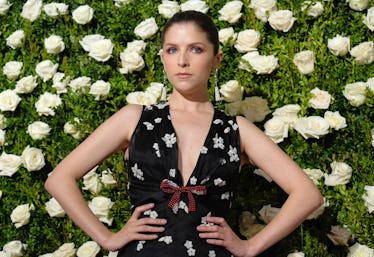 Anna Kendrick's Reason For Dumping Her Ex Boyfriend Is Sadly So Relatable
Jemal Countess/Getty Images Entertainment/Getty Images
Celebrities may be rich, famous, and beautiful, but that doesn't protect them from the terrifying reality that is Trying To Date. It's a truth universally acknowledged that for every winner in the dating game, you have to make your way through a whole bunch of losers, and sometimes you have to set your boundaries and say, "nope." Anna Kendrick knows it, according to a story she recently shared. Anna Kendrick's breakup story about not respecting boundaries is honestly so relatable, and it's kind of sad.
In an interview with Elle, Kendrick talked how when she was "younger," she dated a guy who didn't listen when she said "no." She said,
I was dating a guy. He tickled me playfully, and I said, 'I know that's cute and that people do it, but I really don't like being tickled. It really makes me feel trapped and panicked. I know it's silly and funny for most people, but I really hate it, so could you please not?' He thought that it was really dumb that I had a problem with being tickled and did it anyway.
Now, as a quick reminder to anyone whose first response is, but that's not so bad: there are no acceptable levels of disregarding someone's bodily autonomy or points at which it's funny to make someone uncomfortable. But for a lot of people who get caught in these situations, it can be hard to push for what might feel like confrontation. So kudos to Kendrick for drawing her lines. She continued on,
I broke up with him. And I knew that in the retelling of that story, I would be some crazy girl. You never want to be labeled 'the crazy girl' ... That he would tell his friends, 'Oh, she broke up with me, because I tickled her. What a psycho.' I just had to go, 'No, I broke up with you because I told you something was important to me, and you didn't respect that.'
She went on to say that even as she broke up with him, she knew the guy wouldn't see it the way she did. "I knew that he wouldn't necessarily frame it that way in his mind, and I just had to be okay with that. Which sucks, because you want to be understood," she added.
It really does, Anna. It really does.
Kendrick is known for sharing her thoughts, speaking out on issues like feminism, LGBTQ+ rights and suicide prevention, and body image, so hearing her talk about the very important issue of boundaries in relationships isn't out of the ordinary. Expected or not, though, I'm still here with the fist pump for her highlighting how "no means no" in all contexts.
Thankfully, it looks like Kendrick is doing better in her love life these days — she's currently dating cinematographer Ben Richardson, and the two have been together since 2014.
She's also lucky in her friendships — talking about her upcoming movie Pitch Perfect 3, where she stars as Barden Bella Beca Mitchell, Kendrick said that she was going to miss the project and her cast-mates. She told Elle that she got "drunk and emotional" at a dinner after the end of filming. And she's clearly not the only one who feels that way — her costar Brittany Snow, who plays Chloe Beale, recently told Elite Daily that the cast are all so close that picking a favorite would be "like trying to choose a sibling or something."
"It's great working with all of the girls," she said. "They've come to be my best friends."
So between solid friendships and what looks like a much healthier relationship, I'm willing to bet Anna Kendrick is doing just fine for herself. As long as no one tickles her.