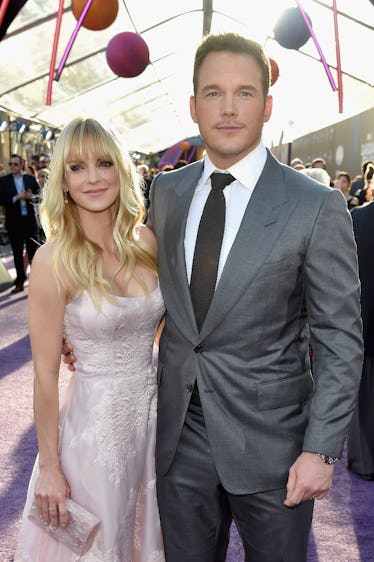 Anna Faris Opens Up About What Her Relationship With Chris Pratt Is Like Now
Frazer Harrison/Getty Images Entertainment/Getty Images
Celebrity breakups are tough for the fans who love them, and Anna Faris and Chris Pratt's separation cut especially deep. Here were these two gorgeous and hilarious humans, looking beyond perfect together — that is, until Aug. 6, 2017 rolled around and they announced their split. It was, in one word, tragic. But time heals all wounds, and Anna Faris and Chris Pratt's relationship now seems completely amicable.
In an interview with Women's Health, Faris spoke openly about her current relationship with Pratt, and how they are navigating things between them in a way that best serves their 5-year-old son, Jack. She said,
What Chris and I try to do is to communicate openly. We reiterate that there aren't rules to this. We have a lot of love and friendship, and our big goal is to protect Jack. I cherish my family, my close friends, my child — that makes the rest of it worth it.
BRB, weeping.
Faris also talked about how she still believes in the idea of love, and that she craves "human connection." She said,
I love love! Like all of us, I need a sense of human connection and intimacy. At the end of a workday I feel exposed and kind of raw. I want to be with someone I can confess to, and who can confess to me.
I'd gladly confess my love for Anna Faris anytime. Just sayin'.
Love you, girl.
So, even though the two are no longer together, they're still making sure that their son is their main priority, which I can totally respect. It still saddens me to think back to that fateful day in August when the pair took to Facebook and Twitter to share the news of their separation with fans, though. The post read:
Anna and I are sad to announce we are legally separating. We tried hard for a long time, and we're really disappointed. Our son has two parents who love him very much and for his sake we want to keep this situation as private as possible moving forward. We still have love for each other, will always cherish our time together and continue to have the deepest respect for one another.
Annnddd my heart is breaking all over again.
Although Faris is open to the idea of falling in love once more, she recently spoke to Dax Shepard on his podcast, Armchair Expert, about how the idea of marriage may no longer be an option for her. On March 26, she told Shepard, "I need to figure out what the purpose [of marriage] is. Is it safety for your children? Is it convention? Is it so other people respect your relationship more?"
TBH, I'm married and I'm still shrugging at all of these questions. You raise some good points, Anna.
She added, "For me, I'm just not quite sure where it fits. I am a romantic. I believe in a partnership, I believe in companionship. I just don't know if I believe in a ceremony of a wedding."
ANNA, PLEASE BELIEVE ONCE MORE IN THE SANCTITY OF MARRIAGE. I know it can be hard, but just keep yourself open to the idea for me, OK? OK.
But marriage aside, it's clear that Anna Faris still respects the hell out of Chris Pratt, and even after their split, still has the kindest things to say about him. Back in October of 2017, Faris told People Magazine, "We'll always have each other and be incredible friends." She also added, "There is still so much laughter in our lives together, and he is so proud of me, still. We watched each other grow, and he still cracks me up all the time. And I think I crack him up — unless he's a really good actor and great at faking laughter."
Beautifully said, Anna.
Now if you don't mind, I'm going to sit on my couch, eat some Doritos, and cry over how unfair life can be.