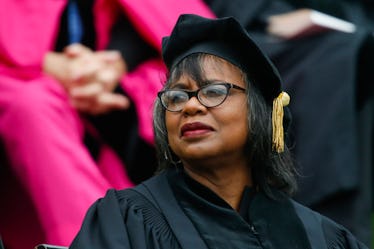 Anita Hill Doesn't Have High Hopes For Christine Blasey Ford's Hearing
Eduardo Munoz Alvarez/Getty Images News/Getty Images
The recent allegations against Supreme Court hopeful Brett Kavanaugh have sparked conversations across the United States. As of Wednesday, Sept. 26, three women have accused Kavanaugh of alleged sexual misconduct, which he has denied, and their stories are familiar to a case from 1991. Despite all the support being shown to these brave women, Anita Hill's comment about Christine Blasey Ford isn't as encouraging. Elite Daily reached out to representatives of Kavanaugh for comment on the allegations against him but did not immediately hear back.
On Sunday, Sept. 16, just a few days ahead of the Senate Judiciary Committee's vote on Kavanaugh's confirmation, California professor Dr. Christine Blasey Ford came forward to accuse the Supreme Court nominee of attempted sexual assault during a party while they were both in high school in the early 1980s. Kavanaugh publicly denied Ford's claims, and representatives of Kavanaugh did not reply to Elite Daily's request for comment. But many have seen similarities between her story and Professor Anita Hill's 1991 allegations against then-Supreme Court nominee Clarence Thomas, in which she alleged he repeatedly asked her out and subjected her to graphic conversations about topics including pornography. Thomas denied it at the time and representatives of the justice did not respond to Elite Daily's request for comment. In the end, the allegations against Thomas didn't derail his nomination, and Hill apparently doesn't have much hope for Ford's hearing either. On Tuesday, Sept. 25, Hill spoke to the Associated Press about the allegations against Kavanaugh, and said she doesn't believe Ford will get a fair hearing because of all the obstacles facing her, particularly given Trump's support towards Kavanaugh and how there's no FBI investigation.
She said,
It's hard for me to imagine it can be fair. The reason I think it's not going to be fair is that it doesn't give you all the information. And I believe it is designed to pit his word against hers, and we know that (he) has all of the power of the presidency behind him. And she doesn't.
Elite Daily reached out to the office of Senate Judiciary Committee Chairman Sen. Chuck Grassley for comment, but did not immediately hear back.
Unfortunately, Hill's belief Ford won't receive a fair hearing seems to be warranted. Since Ford came forward with her accusations, the professor has received immense backlash from the public, which, according to her attorney, was one of the reasons why she was hesitant to testify. In addition to the backlash, Donald Trump has publicly supported Kavanaugh since these allegations surfaced, and questioned Ford's character when he referred to the Kavanaugh accusations as "political" while speaking to reporters on Sept. 24. He said,
For people to come out of the woodwork from 36 years ago and 30 years ago and never mention it — all of the sudden it happens. In my opinion, it's totally political. These are highly unsubstantiated statements from people represented by lawyers — you should look into the lawyers doing the representation.
Despite all that was against her, Ford eventually agreed to testify before the Senate Judiciary Committee, with hopes that hearing will remain fair. However, if the past does repeat itself, there could be a chance that might not be the case. During Hill's hearing in 1991, the black professor underwent a grueling experience in front of the Senate Judiciary Committee where she was grilled in front of an all-white, all-male panel.
The future of Ford's case may be unknown, but it's safe to say that this women's movement is far from over.