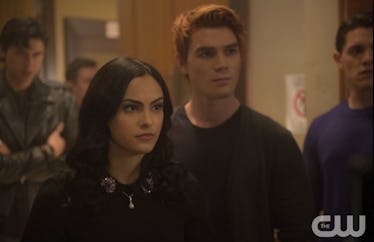 'Riverdale' Season 2 Will Guest Star This Celebrity & Fans Are So Here For It
Riverdale returns Jan. 17, you guys! Back from winter hiatus, the CW's campy high school soap is here to once again brighten up our Wednesday nights. In the latest episode called "Chapter 23: The Blackboard Jungle," Betty searches for her long-lost brother, while Southside High shuts down, forcing Jughead and the rest of the Serpents to transfer to Riverdale High. THAT should go well, right? We can also expect to see some fun guest appearances in the next few months, including one from my favorite snarky Bravo talk show host. Andy Cohen's character on Riverdale Season 2 will supposedly turn up in town some time in March to spice things up for the Lodges — and I am totally giving this development my "Mazel of the Week."
According to EW, Andy will begin shooting his cameo later this week and, according to the network, he will be playing himself. His "character" will be an old friend of the Lodges who shows up in Riverdale to help out Mom of the Year Hermione Lodge, played by Marisol Nichols.
Hope he brought her a bottle of Cristal!
Seriously, I am loving this development, mostly because one of Andy's besties IRL is Kelly Ripa's husband, Mark Consuelos, who is also on the show and plays Hiram Lodge, Hermione's fresh-outta-prison husband. And we all know how much Andy struggles to keep a straight face while hosting Watch What Happens Live, so I can only imagine the smirk-fest that's going to take place on the Riverdale set.
Also, Hermione totally looks like a Real Housewife, dontcha think?
Of course, it's not really all that surprising that Cohen landed the gig, considering he heavily campaigned for it in the fall with a video that aired on his Sirius XM radio show Radio Andy.
"You've seen Riverdale, but you haven't seen Riverdale with Andy Cohen," the spot begins.
"Andy could be the perfect substitute teacher or coach," the voiceover explains. "Or for the less inappropriate route, a talk show host... Andy won't even cost you a dime for a hotel. He'll shack up with Mark Consuelos."
Hilarious! I'm so glad the CW bought into the campaign and gave Andy a spot on the show, because I can't wait to see how this all plays out.
Fans of the show over on Twitter seem to be pretty pumped about the guest appearance, too:
In addition to Consuelos, other new cast members for Riverdale's second season include Charles Melton, who replaced 13 Reason Why's Ross Butler as Reggie; Brit Morgan as Penny Peabody; Vanessa Morgan as Southside Serpent member Toni Topaz; Graham Phillips as Veronica's ex; and Hart Denton as Betty's long-lost brother Chic Cooper.
So who's Chic Cooper? Well, in the Season 1 finale, we found out that Betty's mom Alice got pregnant in high school and then gave up her baby because Hal Cooper found out she was expecting and wanted her to have an abortion. Instead, Alice checked into the Sisters of Quiet Mercy, where she had Chic and then gave him up for adoption.
The trailer for the Jan. 17 premiere shows — among lots and lots of other things including Principal Weatherbee demanding that Jughead take off his Serpents jacket at Riverdale High, and a man in a suit telling Archie, "Your girlfriend's father is an extremely dangerous man" — Alice telling Betty she wants to meet Chic, then later slowly opening a door to some nondescript room, only to find him waiting inside.
Check out the end of this clip and you'll see what I'm talking about:
Looks so good, right? Maybe when Andy's character finally shows up he'll invite them all into the Clubhouse for a round of "Plead the Fifth," or for one of his signature drinking games that involves, say, taking a sip of rum every time Veronica blames everything on her father.
Can't WAIT!