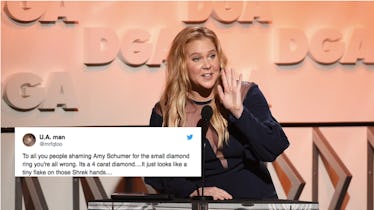 Amy Schumer Is Getting Shamed For Her Engagement Ring & It's Not OK
Kevork Djansezian/Getty Images Entertainment/Getty Images
My neighbor growing up had a huge engagement ring. Like ice skating rink huge. "Someone must love you very much," I remember one of my friends once telling her. "Oh yeah?" she replied. "Well, then, where is he?" Ouch. No surprise, the couple got divorced about a year later. Moral of the story? When it come to rings and marriage and "'til death do us part," it's not the size that matters, it's the depth of love behind it. It's a lesson I've never forgotten — and apparently some people still need to learn. Amy Schumer's engagement ring is getting shamed online — as is the size of her hands, of all things — and it is seriously not OK, you guys!
It all started when a recently married Schumer hit up a Knicks/Warriors game the other night at Madison Square Garden wearing her gorgeous ring from new husband Chris Fischer. News outlets like Entertainment Tonight and The Daily Mail ran close-up photos of Schumer and her beautiful new rock sitting courtside at the game, and the trolls came out to throw shade at its size because that's what trolls do. I just don't get people sometimes.
"That sure is a tiny chip in her ring," wrote one Facebook commenter. "Hmm. Hold on.........my eye sight must be going," added another. Really guys? So petty and rude! And as if that wasn't bad enough, more keyboard warriors took to Twitter to shame not just the size of the ring, but also the size of Schumer's hands and her body.
Comments shaming Schumer like this are NOT OK. First of all, I love Schumer's ring. It's actually so nice to see a celeb choose a more modest stone for a change, since it seems to have become a competition of sorts in Hollywood to see who can score the largest rock. And second of all, how dare anyone criticize Schumer's choice! Here is a woman who has just married the love of her life in a beautiful, low-key ceremony filled with all the emotion, and the only thing people want to focus on is what her ring and the hand it's currently situated on look like? Do these haters not get that not everyone needs a massive piece of ice to validate their relationship, or that being happily married actually has zero to do with how many carats your diamond is? Schumer is clearly living her very best life at the moment, so these commenters need to just back the eff off and let her soak it all in.
So far, Schumer hasn't commented on the online hate she's received, and good on her for not engaging with the trolls! Although TBH, I think this guy may be onto something:
It's not a bad idea, right?
Meanwhile, just a few days ago, Schumer shared a super sweet video from the couple's surprise wedding ceremony — and break out the tissues, because it totally features their vows.
"I love you, Amy," Fischer tells his bride. "You bring happiness and joy to every part of my life. You are the best thing to ever happen to me. I love you with every piece of my heart."
Amazing, right? Now check out what Schumer has to say when it's her turn. "I just wanted to plug some of my road dates," she jokes, before turning serious. "People are probably wondering, why the rush? Why so fast? And it's because I truly cannot wait another second to be your wife. I love you."
Honestly, these vows are so beautiful, and I seriously don't think I could ship these two more! Find someone who adores you the way Schumer and Fischer adore each other, and you won't probably care about your ring size, either!