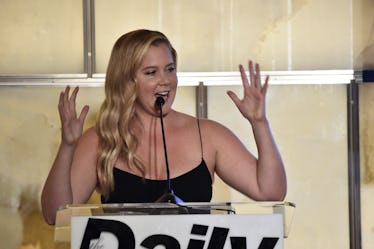 Amy Schumer Revealed She Won't Star In Any Super Bowl Ads To Support Colin Kaepernick
Steven Ferdman/Getty Images Entertainment/Getty Images
From the very beginning of Amy Schumer's Hollywood career, she's aimed to use her platform to speak out about important social issues. If you follow her on social media, you've most likely seen endless support for body positivity, women's rights, and racial equality. In fact, most recently, the star took a major stand against racism in the NFL, and it's so groundbreaking. In case you haven't heard, Amy Schumer won't star in Super Bowl LIII ads in an effort to support Colin Kaepernick.
On Friday, Oct. 19, the standup comedian and I Feel Pretty actress posted an incredibly important message on Instagram about the current controversy surrounding racial equality in the NFL. In a caption under a still taken from Inside Amy Schumer where the actress is leaning on a huge wine glass, the actress pondered why more white football players aren't kneeling to take a stand against racism and to support former NFL player, Colin Kaepernick.
The actress joked that her decision to opt out of Super Bowl ads sounds "like a privilege ass sacrifice, but it's all [she's] got." She continued by saying she's doing it to "stand up for [her] brothers and sisters of color," since "hitting the NFL with the advertisers is the only way to really hurt them."
Read Schumer's entire caption below:
Friday thought. I wonder why more white players aren't kneeling. Once you witness the truly deep inequality and endless racism people of color face in our country, not to mention the police brutality and murders. Why not kneel next to your brothers? Otherwise how are you not complicit? I think it would be cool if @maroon5 backed out of super bowl like @badgalriri Did. I personally told my reps I wouldn't do a Super Bowl commercial this year. I know it must sound like a privilege ass sacrifice but it's all i got. Hitting the nfl with the advertisers is the only way to really hurt them. I know opposing the nfl is like opposing the nra. Very tough, but don't you want to be proud of how you're living? Stand up for your brothers and sisters of color. And the hottest thing a guy can do is get down on one knee. Not to propose but to reject the treatment of his teammates by this country. Anyone who says its disrespectful to our military please read up on the fact that a lot of veterans are proud of what @kaepernick7 is doing and fully support him. What are your thoughts?
As Super Bowl ads tend to be major money-makers, Schumer's decision to turn down Super Bowl ads is highly respectable. However, she isn't the first celebrity to turn down involvement with the Super Bowl. According to GQ, Rihanna had also turned down performing the game's halftime show. This is reportedly why Maroon 5 ended up taking the gig. Schumer took note of this in her caption, saying Adam Levine's band should consider opting out as well.
The controversy surrounding Colin Kaepernick started back in August 2016 when the quarterback decided to kneel during the National Anthem in order to take a stand against racism as well as the national issue of police brutality. Many fans were angered by Kaepernick's "lack of patriotism," and he wasn't signed on to a team following the controversy.
Amy Schumer's decision to opt out of Super Bowl commercials is really important. More importantly, however, maybe the NFL will now make some major changes in how they handle major issues like these.