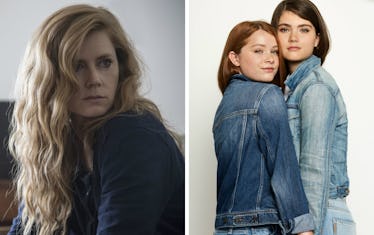 Here's What It's Like Working With Amy Adams, According To Her 'Sharp Objects' Co-Stars
HBO/Photo: Benjo Arwas, Styling: Erin MacDonald
Do your friends tell you you're "celeb obsessed"? Do you follow your favorite celebs' every move? Know their Instagram histories so well that you can rattle off their inner circle by name and IG handle? If yes, Elite Daily's new series, SideClique, is just for you. We're bringing you everything you've ever wanted to know about the people living their lives right alongside our favorite celebs.
Sharp Objects boasts a fantastic cast of actors, led by Amy Adams in the lead role as Camille Preaker. She and her co-stars, including Patricia Clarkson as Adora Crellin and Eliza Scanlen as Amma Crellin, have garnered rave reviews for their performances over the eight-episode mini-series. But what is it like working with women who are on the top of their acting game like that? Amy Adams' Sharp Objects co-stars Violet and April Brinson reveal what went into working with such strong women while filming the hit show.
The Brinson sisters play Kelsey and Jodes, the two roller skating girls who seem to flank Amma in every scene in the early episodes. They describe themselves as Amma's best friends, and both are part of the crowd of rich kids in town who party it up all summer long.
When it came to working with Adams, April tells me in an exclusive interview for Elite Daily, "It was incredible! We were both nervous to work with Amy, obviously, and Patricia and Eliza. They're such talented women. But Amy was so incredibly kind and warm and welcoming that I felt I could step up and do my very best work."
Violet agrees, "You know you always want your idols to be great people and being able to meet Amy Adams to find out that she's such a sweet and wonderful person, it was incredible to know that this was who she was."
Adams wasn't the only one they enjoyed working with. The girls formed a fast friendship with Scanlen off-screen as well as on. According to Violet, "Eliza is so sweet and so down to earth and so hardworking. We became really good friends over the course of filming. We would go peach-picking together, we would roller skate, we would do all this stuff outside of set, and we became really close. It was such a blast to be with her because she was so hardworking and passionate and just a great human being."
Both agree just getting to be on set was the best part of their jobs. As April says, "Our favorite part is just being on set, and just being able to do what we love to do, surrounded by such people who are passionate about the same thing and are so talented."
Being on set with Scanlen was also super fun. Both girls say their favorite moment during filming was when the three of them did an improvised roller skating scene ahead of Calhoun Day. Violet explains, "There was a moment during filming when Jean-Marc decided to do an impromptu roller skating scene with me, April and Eliza on the front porch of the Crellin house. It was just so natural and fun and sudden, it was just a blast. We were just singing and roller skating and rehearsing our lines for the Calhoun play, and it was a really great time that just really stuck with me."
April echoes these sentiments, "Yeah, I would agree with that Violet, that was one of our favorite days."
Sounds like filming one of the biggest hits of the summer was a blast. Violet and April Brinson say they can't reveal their next projects yet, but fans will be seeing them again soon.