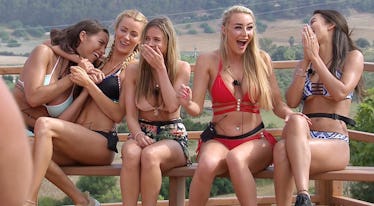 An American Version Of 'Love Island' Is Coming, So Expect More Reality Drama In Your Life
ITV
If you love Bachelor in Paradise and Big Brother, then get ready to become obsessed with the newest reality show set to take the United States by storm. CBS is bringing the mega-hit British reality series Love Island across the pond to American audiences, and if you have not heard of the dramatic reality competition before now, get ready, because it is about tot take over the U.S. Here is what you need to know about the American version of Love Island on its way.
The best analogue that American audiences probably have for Love Island is Bachelor in Paradise. Much like BIP, Love Island transports a large group of hot young contestants to a tropical location, where they have to couple up with one another in order to continue on the show. The British Love Island takes place in a large villa on the Spanish island of Mallorca in the Mediterranean Sea — there's no word yet on where the U.S. version will take place. But Love Island is not only similar to Bachelor in Paradise; the series also adds some of the drama that makes Big Brother so compelling. With scores of cameras constantly filming around the villa, viewers get to see every little thing that goes down between the contestants.
Basically, the goal of Love Island is to form and remain in a strong and likable couple for about two months. Over the course of the series, contestants are forced to "re-couple" by either remaining with their current partner or selecting a new one. Couples can form based either on an actual romantic interest or on pure strategy, since the couple remaining intact at the end of the series is awarded £50,000 (about $65,000). The public and fellow contestants have also been able to vote off other contestants at certain points in the past.
Although we will have to wait for the American version of Love Island to premiere, U.S. viewers can stream all four seasons of the British Love Island on Hulu.
In its announcement, CBS noted just how immensely popular Love Island had become in the United Kingdom. The show's fourth season concluded at the end of July with the finale episode raking in the biggest viewership numbers in the history of U.K.'s ITV2 network. Love Island has progressively become an undoubtably pop culture phenomenon in the United Kingdom over its four seasons — it started out averaging only a half a million viewers in Season 1, which continues to grow up until its fourth season averaged nearly four million viewers throughout its run.
The scope of the series has also risen a ton with its popularity. Love Island has gone from starting off with 23 contestants to introducing 38 contestants in Season 4. The show also airs six new episodes a week currently (up from the five per week it began with) and its episode count has nearly doubled from 29 episodes in Season 1 to 49 episodes in Season 4.
CBS has not yet announced a premiere date for its version of Love Island.