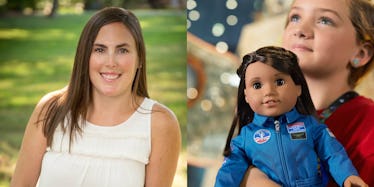 This Is What It's Like To Write American Girl Doll Books For A Living
American Girl
Erin Teagan knew she wanted to be a children's book writer, so she pursued a career in science. She spent 10 years working in drug research and development, waking up to write between 4:45 to 6:30 a.m., long before her actual day job started. In 2016, her hard work paid off when her first book, The Friendship Experiment, was published. Persistence met luck as the novel — a middle grade book with a science focus — was published just as a certain company was looking for an author who could write middle grade books with a science focus, and that's how Teagan became the author of American Girl's Luciana books, writing full-time.
There was no room for negative thoughts at all; I really had to turn that part of my brain off or I would just never be able to get it done.
"I literally went into science thinking, 'I just need to support myself [long enough] to become a writer,'" Teagan tells me in an interview for Elite Daily, noting that she did love science, but not like she loved writing. "It took persistence, but the thing is, I really like to write, so for me, it didn't feel like a lot of work."
Teagan wrote three books for American Girl of the Year 2018 Luciana Vega, a new doll introduced at the start of this year. Luciana is 11 and wants to become the first person to go to Mars, and the books Teagan wrote are about her adventures at space camp. While the release of Luciana's story has been amazing for Teagan, it was an arduous process to get there, from working her way through science to write to actually getting the American Girl books published.
When American Girl contacted her, they had Luciana the doll planned out, and they told Teagan that Luciana wanted to be an astronaut and was going to space camp — but those were the only instructions they gave her in terms of plot for the books. That, and the fact that she had to write all three within a year.
"[American Girl] give[s] their authors a lot of creative freedom, which was a little bit terrifying, for one, because the deadlines were really short, but it was also great when I sat down to start writing," Teagan says.
To help her figure out Luciana's journey, American Girl offered to take Teagan to space camp, which obviously, she jumped on. She ended up going twice — once with her editor and some American Girl representatives, and a second time with the Luciana advisory board (a group of experts that included an astronaut, people who work for NASA, and astronomy professionals) involved in making the full doll product), which, she said, was like a behind-the-scenes look at how they develop the dolls.
"They really keep in the forefront this idea that they're trying to empower girls," Teagan says about the American Girl team. "I was so relieved and happy to see that — and impressed."
Space camp, which she says was "awesome," was just the start of the resources American Girl provided her to write Luciana's story. If the Luciana advisory board couldn't answer any of her questions — i.e. "what does a habitat smell like?" — they'd find someone who could. The advisory board also included a Chilean culture expert, as Luciana is Chilean, which Teagan appreciated, as it was "definitely challenging" to write about a culture she was unfamiliar with.
I really hope that kids who read Luciana's story will kind of feel, like, energized and motivated and confident enough to have a huge dream of their own.
"It was really important to me and American Girl that we had somebody that could help us and read the manuscripts and say, 'No, this is not exactly how it is,' or, 'This is more accurate,'" she says. "That was just so helpful and eye-opening, too."
With the team there to help, Teagan sat down to write three books in one year — a task that, luckily, didn't give her time to think about the pressure of how many girls would be reading them. "There was no room for negative thoughts at all; I really had to turn that part of my brain off or I would just never be able to get it done," she says.
Throughout her year of work, Teagan wasn't allowed to tell her friends or family what, exactly, she was working on. So when Luciana's books were finally released (the first book came out on Dec. 26, 2017, and the third came out on May 29, 2018), she got to give the big reveal. "No one could believe it, you know?" she says.
Teagan explains that it was extra fun telling her sisters that she'd written American Girl books. Teagan is the oldest of four, and each of her sisters had an American Girl doll and went to space camp growing up — Teagan was the only one who didn't.
"I had to say, 'Ha! I finally got to go to space camp!' They were all laughing at that," she chuckles.
As the mother to an 8-year-old boy and 10-year-old girl, writing these books was extra exciting. American Girl ended up sending an extra Luciana doll for her daughter, and the family read the books together. Teagan's daughter, meanwhile, has been going with her to bookstore signings and to talk to students at libraries about the books. These visits are not part of the American Girl contract, Teagan just wanted to do them because of how much she loves Luciana.
"I really hope that kids who read Luciana's story will kind of feel, like, energized and motivated and confident enough to have a huge dream of their own," Teagan says. She notes, with her son in mind, that this is true for boys and girls about careers in STEM (the acronym for the science, technology, engineering, and math industries) and any other dreams, but she does have particular thoughts about what she hopes her influence is for girls in STEM.
"It was important to me that kids see you don't have to be this genius or total math wiz to be a scientist," Teagan says. "Anyone can grow up to be a scientist, and I feel like girls think that they can't become a scientist because of all these horrible images they see, and no one thinks of a scientist as a girl — although that's changing. For me, specifically, to speak to girls — there's definitely room in science for all kinds of girls."
And already, Teagan has seen the impact of Luciana's story. She was able to do a presentation for a group of about 50 girls in an after-school program called Latina SciGirls. In talking to these girls, she emphasizes what she tells all her readers: Anyone can be a scientist, even if you don't think the people in the profession look like you. After her presentation, a teacher surprised the girls with their own copies of a Luciana book. One by one, the girls came up to Teagan to get their new book signed.
"Every single girl in that line told me what her dream was," Teagan says. "I was trying not to cry the whole time."