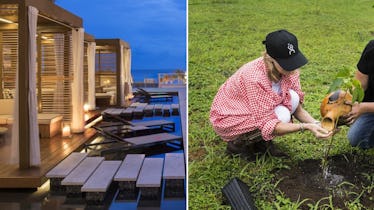 This Hawaiian Resort Offers A Spiritual Package So You Can Set Intentions For The New Year
Some people say that the way you ring in the new year can foreshadow how the next 365 days of your life will pan out. If you believe the same, imagine celebrating the new year with a transcendental, spiritual experience in Hawaii — yes, really. 'Alohilani Resort's "Plant Your Intentions" package allows you to do exactly that: welcome the new year with nothing but good vibes and positive intentions. To say the least, this high-vibrational package is a whimsical dream brought to life.
Honestly, I think just going to Hawaii in general would be an incredible way to ring in the new year. But staying at the ʻAlohilani Resort Waikiki Beach, a Hawaiian resort known for delivering unique, memorable experiences, is sure to elevate the celebration to completely new heights. According to a press release sent in an email to Elite Daily, the resort's new package, called Plant Your Intentions, will be introduced in January 2019, and it's all about starting the new year on the right foot. As the name of the package suggests, this experience invites you to set good intentions for the new year and embark on a rewarding journey of self-discovery, all on the beautiful island of Oahu.
So here's how the whole thing works: As per the press release, the experience will begin before you even arrive at the resort in Hawaii, with an "astrological phone reading using the renowned Debra Silverman Astrology method, a unique psychological-spiritual model combining Esoteric (soul-centered) Law, Astrology with Psychology." Hokulani Beale, an astrologer in Oahu who has studied under Silverman, will conduct your reading, and her "therapeutic approach [will] help guests tap into an inherent understanding of their self and emotional health," the press release explains.
Intrigued? Just wait until you hear what's in store for you when you arrive at the resort.
Once you get to the ʻAlohilani Resort Waikiki Beach, that's when you'll begin to apply what you learned about yourself in your reading with Beale. You'll arrive at ʻAlohilani and dive right into a two-hour private workshop with life coach Tiare Thomas, founder of Aloha Dreamboard. Thomas will "dig a little deeper," the press release explains, to learn more about who you are and what your goals are for the new year. To help you develop your overall intentions for your trip, the press release says, Thomas will guide you through various visualization exercises, a journaling session, and a creation of what's called a "Lifeboard Dreamboard," which "can be taken home as [a] lasting representation of [your] desires and aspirations for the coming year." In other words, this trip will give your new year's resolutions a total spiritual makeover for 2019.
On the second day of the experience, you'll literally "plant your intentions" through ʻAlohilani's partnership with the Hawaiian Legacy Reforestation Initiative, which, according to the travel package's press release, is "a non-profit organization committed to returning indigenous trees back to Hawaii." Back in May 2018, as per the press release, 'Alohilani pledged to plant 100,000 trees across Oahu and the Big Island to help contribute to the Hawaiian Legacy Reforestation Initiative's effort to revive the native ecosystem. So, basically, you're literally planting your intentions with an actual plant, and not only are you paving the path for a positive new year, but you're doing something great for the environment, too (I'm not crying, you're crying).
To find the spot where you'll plant your intentions for the new year, you'll embark on an excursion to explore the scenic coast of Gunstock Ranch on the North Shore, and you'll conclude your trip by rooting your intentions into the soil with your very own tree in the ʻAlohilani forest. What's more, the press release says the entire excursion will be documented in video form as another reminder of your experience, and you'll even be able to follow your tree's growth once you return home with a radio-frequency identification chip that will record everything you need to know, including where the tree was planted, and how it matures over time.
If you want to ring in the new year with this dreamy experience, the press release states that the Plant Your Intentions package is available for $935 per night, accommodating two guests for a minimum of three nights (you'll also have the option to add additional nights and guests to your package, if you want to). Yes, it's definitely a steep price, but if you feel like you need a total, mind-body-spirit reset for 2019, there's no better way to do it than with the Plant Your Intentions package.