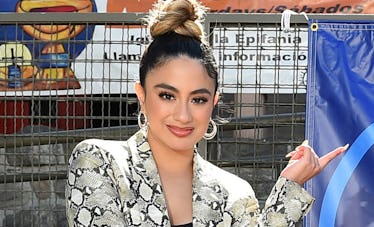 Ally Brooke Hernandez Got So Honest About What She's Learned Since Going Solo – EXCLUSIVE
Jordan Strauss/AP Images
When Fifth Harmony announced their hiatus in March 2018, it broke Harmonizers hearts because they just weren't ready to let go of their fave girl group. But the temporary split was a blessing in disguise, to be honest. While the girl group's melodic harmonies are sorely missed, they've more than made up for it with all their solo projects. Camila Cabello was the first to drop her self-titled solo album, which has produced hit after hit like "Havana" and "Never Be The Same." And her former bandmates followed suit with tracks like Normani's hit collab with Khalid, "Love Lies," and Lauren Jauregui's collaboration with Halsey, "Strangers." Now, Ally Brooke is gearing up to release her solo music, and while speaking with her about her highly anticipated new music, Ally Brooke Hernandez's comments about going solo really highlight how powerful one's individual voice can be.
It's so important to know you really do have a voice and you really can make a difference in your communities and all around you.
Even though I only speak to Ally Brooke Hernandez over the phone, her air of positivity is still contagious as she excitedly tells me about all of the amazing projects she's working on as a newfound solo artist. "This is such an exciting time in my life," she gushes. "I'm really kind of just discovering who I am. Even though I knew who I was, I'm kind of discovering even more things about myself."
When I ask how the creative process working on her solo music is different from working with Fifth Harmony, Hernandez got pretty honest about how freeing it's been. "I have so much power and control, and that is something that has been so liberating," Hernandez shares. "From what I wear to what I sing about, even if I want to change something in a song — whether it's production or lyrics — I basically have full control and I've never had that before."
Having a team that really believes in her vision as an individual has also been an eye-opening experience for Hernandez. "I have a team who really just backs me up, believe in me, and we're doing this together as a team and it's been such an indescribable feeling, and so many phenomenal things have been coming my way. I'm honestly just so thankful and it's just so exciting."
So, what does Ally Brooke's solo vision mean for fans? Well, she promises her future tunes aren't going to be like anything you've heard from her before. "It'll be different from Fifth Harmony," Hernandez dishes. "It'll kind of have its own sound and it'll be, I would say, kind of creative. I don't want to give too much away, but it'll be really fun and empowering and it's great that the group was able to be that as well, but I'm going to be able to do it in a different way."
Hernandez is really embracing her new solo artist status and is using her new platform to promote a cause that's important to her: the preservation of America's historic places. Hernandez sees the important role that historic sites across the country have played in sustaining local communities, and has partnered with the National Trust for Historic Preservation and American Express for their Partners in Preservation: Main Streets campaign, an initiative that will see $2 million in funding go to preserving historic national sites across the nation based on whichever sites get the most votes from people in their communities.
Hernandez got involved with the campaign in person during her visit to The Church of the Epiphany in Los Angeles, which was a birthplace of the Chicano Movement in the 1960s and served as a hub for the Mexican immigrant community. It's also one of the sites in the running to receive funding as part of the Partners in Preservation: Main Streets campaign. Hernandez tells me, "It's really important to me to be able to encourage the next generation, my generation, to get involved and to vote." She continues, saying, "I really think that this generation has such impact and they are the future, and to be able to instill that in my peers and in my friends, encouraging them that they can make a difference... It's such an important message to be able to share to this generation."
Hernandez also loves the campaign's message. "It celebrates diversity and inclusivity of everyone and that is so important to me and as a Latin woman — to stand behind something with such an amazing foundation," she tells me.
This was a message Hernandez was also able to promote as part of Fifth Harmony, too, a band fronted by five women from diverse backgrounds. Despite their indefinite split to pursue solo projects, she certainly doesn't take the impact Fifth Harmony had lightly.
"Being able to kind of be part of something that was so big and meant a lot to so many people [meant so much]," Hernandez shares. "For us, we were able to really be a face for so many girls and boys to say, 'Hey, I look like her, they all don't have this one look about them. They are so diverse. Maybe I have a chance at accomplishing this dream,' and for us, it was tremendously important that that message came across."
Being an inspiration to so many fans who are struggling to find their voice really drives Hernandez and her involvement with the Partners in Preservation: Main Streets campaign. When I ask why her fans should get involved, she says, "It's so important to know you really do have a voice and you really can make a difference in your communities and all around you. Find those sites that mean a lot to you and do your research and vote on them because we have to preserve this history and these stories within those walls."
The one thing she can't vote on: Whose solo music she likes best among her former 5H bandmates Camila, Lauren Jauregui, Normani, and Dinah Jane Hansen. "Oh my gosh, that's a really tough one," she says. After a silent deliberation, she tells me, "I can't really pick. I love them and that's super tough. I can't pick."
And her love for her bandmates may be why she seems open to the idea of a reunion in the future after the band's indefinite hiatus. "Anything really is possible," she says. "You never know where we're gonna be, so stay tuned!"
All that's for sure is you shouldn't expect a reunion before Hernandez's solo music drops. She dished that it's coming right around the corner, and you can expect it to hit your eardrums before 2018 is over. Yassssssss.