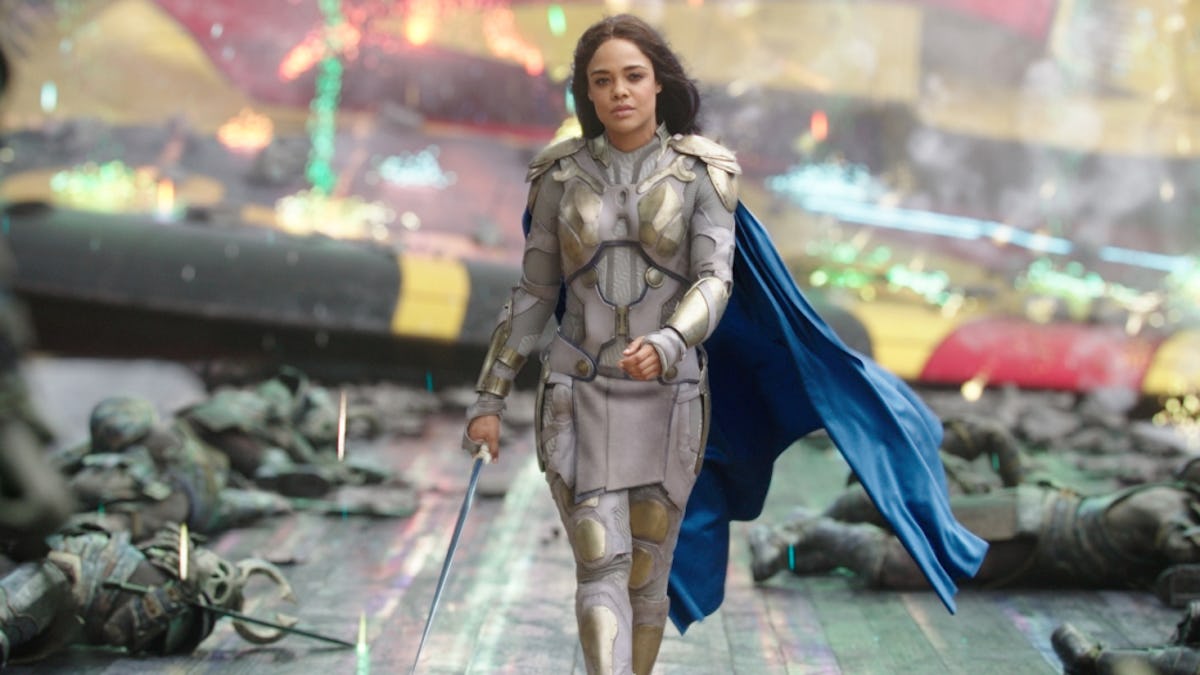 Marvel May Be Considering An All-Female Superhero Movie & Where Can We Buy Tickets?
Marvel
This year marks the tenth anniversary of the Marvel Cinematic Universe, which began back in 2008. Back then, they had one little film, called Iron Man, and an idea to bring together a group of remarkable people to see if they could become something more. And what a group of people they've put together. The "class portrait" had a ton of people in it. But what excited fans most were the images of all the female characters from the Marvel-verse. It wasn't long before fans were asking for an all-female Marvel movie, putting together the women from all the major Marvel films, together on their own adventure.
In ten years, Marvel has not only been wildly successful in their idea of building a big screen version of their comic book universe — they've radically altered the landscape of movie-making.
At first, it just seemed they'd changed the game in terms of superheroes. But the fever spread, until studios like Universal were trying to make "Universal Franchises" out of The Mummy and Dracula.
Now, the fever seems to have spread beyond what Marvel was expecting in the first place. They started the idea of having characters crossover from film to film as needed. Now, the audience is demanding they cross over characters they never thought to mix together.
Not only is the audience demanding it, the actresses are too. Tessa Thompson, who recently appeared as Valkyrie in the newest Thor film, Thor: Ragnarok, wants an all-women team to save the world, and has been pushing for it publicly. Speaking to IGN, she said:
I'm not Marvel so I can't make it happen, but I can tell you that Marvel is hugely collaborative, I think our even our Thor [Ragnarok] movie was basically the product of conversations they'd had with Chris [Hemsworth] and with Mark [Ruffalo] about what they wanted to do next. I think [Marvel boss] Kevin Feige is really excited by the idea, and if you look at what's happened already in Phase 4 with me and [Thompson's character] Valkyrie and our story, and then in Black Panther the women rule supreme.
As she points out, women are next up in the representation list with Marvel, especially once they saw how hungry the market was after the response to Wonder Woman.
There's an interest — they're doing Captain Marvel, they're doing a Black Widow — there's an interest in having women at the forefront of this phase. I feel like it's hopeful, who knows.
Thompson isn't just advocating on the red carpet, either. Apparently, last fall, she got together with a group of women from the different Marvel films, including Scarlett Johansson (Black Widow), Brie Larson (Captain Marvel) plus Zoe Saldana, Pom Klementieff, and Karen Gillan (from Guardians of the Galaxy). They pitched Marvel head honcho Kevin Feige on the idea.
In an interview with Comic Book Resource, she explained how it came about:
We were just sort of all in a semi-circle talking, and it just came up, because none of us really worked together — well, I suppose Zoe, and Karen, and Pom — and wouldn't it be nice if we could all work together? And we were sort of speculating on the ways in which it might happen in Infinity War, or might not happen. And we thought, 'No, we should just have a whole movie where we know every day we're going to arrive and get to work together.' So, we just ran right up to Kevin Feige and started talking about it.
Will Feige listen? Will the Twitter excitement about female-led Marvel movies bring us the crossover Marvel never considered? Time will tell.