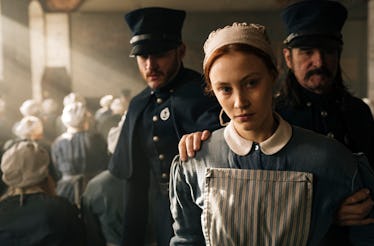 'Alias Grace' Netflix Cast Is So Perfect, You're Going To Be Begging For More
Netflix
With the success of The Handmaid's Tale at Hulu, those at Netflix are hoping their own adaptation of a Margaret Atwood novel, Alias Grace, will land well with viewers. Done in conjunction with Canada's CBC Television, the historically based tale of Grace Marks being studied and interviewed by Dr. Simon Jordan is grounded in the true life story of one of Canada's most sensation murders of the 1800s. But what's most striking is that, by working with the CBC, the Alias Grace Netflix cast is so perfect.
We must start with the two leads who dominate every episode. As in the book, most of the tale focuses on Marks and Jordan. They sit in a room in the Governors Mansion while she tells her life story, or the version of her life story as she prefers to remember it, to Jordan, a well-educated but young physician with a budding career in mental health who is hoping to make his name with a study of her.
Edward Holcroft, who plays Jordan, is best known for his part as Charlie Hesketh in the Kingsman franchise, including both Kingsman: The Secret Service and Kingsman: The Golden Circle. But personally I remember him best for his role as the cruel George Boleyn in the BBC production Wolf Hall. His doctor, silently scribbling when he's not staring at Grace in fascinated wonder, is a cross between James Franco-like acting and David Duchovny-style easy on the eyes.
Sarah Gadon as Grace Marks is mesmerizing. Gadon's work includes many TV and film roles, though not many that have gotten major notice in the United States. Her last role before this was for Hulu, in the Stephen King's miniseries 11.22.63, where she played opposite James Franco.
One of The Handmaid's Tale's biggest issues was to get around that much of the novel is internal monologue. Their daring conceit: Give Elisabeth Moss a lot of voice over work, despite the prejudice against it in TV. It could have been draggy and dreary, but the juxtaposition between internal thoughts and outward statements was so striking (and so well done) that it worked very well. Here too, there is plenty of internal monologue, all done by voice over work by Gadon. So much so that sometimes it's hard to remember which is her storytelling, and which are the internal thoughts. But that's deliberate. Sometimes the polemics she speaks aloud, of the home truths of the poor and the lot of a woman's life, blows Jordan's mind.
In the shorter moments, instead of a monologue, it's a quick flashback memories, usually quick cut and jolting. But that too is deliberate, to juxtapose against the measured and unhurried statements she gives to answer the questions that brought back those memories.
The supporting cast around them are mostly names pulled from the Canadian television world. Rebecca Liddiard, for instance, as the doomed Mary Whitney, is a firecracker when she walks in. She's also given some of the most immortal lines of the early episodes, such as, "Come let's go to bed and make fun of people!" Also too, Paul Gross as Grace's employer (and future victim) Thomas Kinnear is fantastic as a cross between a Scotsman out of a PBS period piece and a southern antebellum romance gone all wrong.
Anna Paquin is probably the best known name of the whole cast, as Kinnear's housekeeper and Grace's other victim, Nancy Montgomery. She flips easily from bizarrely nice to sudden villain and back as Grace's unreliable narration unfolds. And yet, Paquin manages to portray the horror show of the bed she's made for herself. One can sympathize of the in-between world she's been caught in of being both her employer's mistress and his servant that creeps out along the edges.
Filling out the cast is Kerr Logan as James McDermott, a far more frightening and angry man then when we last saw him on Game of Thrones as Davos Seaworth's son in Season 2. Sweet little Stephen Joffe as the poor child Jaime is so cute. (Though his older version is a little jarring.) Zachary Levi as Jeremiah the Peddler/Dr. Jerome is perhaps the biggest unexpected stand out of the series, especially in the final episodes.
With such perfect renditions of these characters, many of whom have speeches that jump directly off the page and onto the screen, fans of the book will be delighted by this adaptation. Just don't get your hopes up for a Season 2. Unlike The Handmaid's Tale, this series wasn't built to last.
All six episodes of Alias Grace arrive on Netflix on Friday, Nov. 3, 2017.