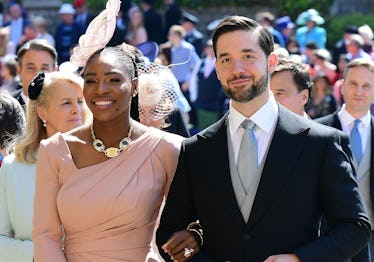 Serena Williams' Husband Tweeted The Most Supportive Message About Her & I'm Swooning
WPA Pool/Getty Images Entertainment/Getty Images
Serena Williams has made it to the semi-finals of the 2018 Wimbledon tournament and her husband, Alexis Ohanian, is by far her biggest supporter. The co-founder of Reddit took to Twitter on July 10 to congratulate his wife on her success in the tournament, and Alexis Ohanian's tweet about Serena Williams at Wimbledon is the supportive sh*t I like to see.
Williams and Ohanian got married in 2017 and have a baby girl named Olympia. They have a hella adorable and supportive relationship, each frequently posting about each other on Instagram showing how happy they are in their partnership. One thing they've been open about is how much struggle Williams went through after giving birth to their daughter. Williams had to undergo an emergency C-section due to Olympia's low heart rate while Williams was in labor, she revealed in an interview with Vogue. The C-section went just fine and little Olympia was calm after being placed on her mother's chest. "That was an amazing feeling, and then everything went bad," Williams said.
She explained that she has a history of blood clots and could tell the day after she gave birth that she was experiencing them again. Her nurse insisted that she was just fine, but Williams told Vogue, "I was like, a Doppler? I told you, I need a CT scan and a heparin drip." She ended up being right, of course, because the woman knows her own body, and the CT scan revealed that she had blood clots in her lungs. "I was like, listen to Dr. Williams!" she said. Williams had a lot of medical complications following this, including hemorrhaging at her C-section scar and a surgery to prevent more blood clots forming in her lungs. So for her to be back in the game and competing so well is a testament to how strong Williams is.
Ohanian acknowledged his wife's strength in his tweet about Williams at Wimbledon.
He tweeted on July 10, "Walking to the mailbox was a painful, exhausting challenge for this woman just 9 months ago. This is already nothing short of remarkable. #wimbledon." Remarkable, indeed.
And Williams knows she's remarkable. In a recent press junket during Wimbledon, Williams was asked by the Telegraph how she feels knowing that she's the player to beat in Wimbledon (well, in every tournament she competes in, but specifically Wimbledon, in this case, because that's what she's currently competing in). "I'm glad someone admitted that," Williams said. "But yeah, every single match I play, whether I'm coming back from a baby, or surgery, it doesn't matter, because these young ladies bring a game that I've never seen before … That's what makes me great. I always play everyone at their greatest, so I have to be greater."
Slay, queen. Slay.
Serena Williams is, quite simply, the greatest tennis player in the game. The fact that she consistently wins matches against women who are giving it their all because they know who they're up against pretty much begets her GOAT title.
In her interview with Vogue, Williams said being a mother might be the last piece of the puzzle that pushes her to beat Margaret Court's Grand Slam record of 25 wins. Williams currently has 23. "To be honest, there's something really attractive about the idea of moving to San Francisco and just being a mom," she revealed. (Ohanian's work is based in Silicon Valley.) "But not yet," she added. "Maybe this goes without saying, but it needs to be said in a powerful way: I absolutely want more Grand Slams. I'm well aware of the record books, unfortunately. It's not a secret that I have my sights on 25."
Williams continued,
And actually, I think having a baby might help. When I'm too anxious I lose matches, and I feel like a lot of that anxiety disappeared when Olympia was born. Knowing I've got this beautiful baby to go home to makes me feel like I don't have to play another match. I don't need the money or the titles or the prestige. I want them, but I don't need them. That's a different feeling for me.
Oh, man. I sense a lot more Serena Williams victories in the future. And I'm sure Alexis Ohanian does, as well.