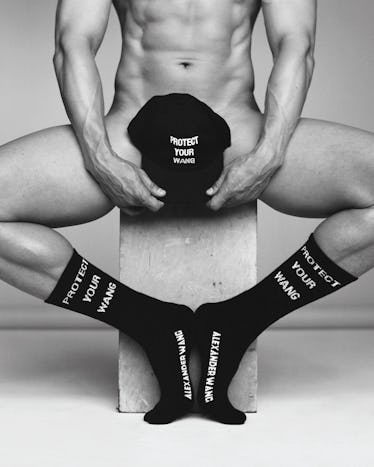 Alexander Wang Just Made The Chicest Condoms, Because Safe Sex Is Designer, Too
Alexander Wang
Of all the amazing fashion launches that have been announced just in time for Pride Month, Alexander Wang's "Protect Your Wang" collection takes the cake for me in terms of cheeky awesomeness. Of course, the designer can do no wrong in my eyes (he has been a favorite of mine since he launched his brand in 2007), but the fact that his newest release is both philanthropic and clever only makes me love him more.
The designer teamed up with Trojan Condoms on the limited-edition capsule collection, which supports the LGBTQ community and emphasizes the importance of using condoms to "Protect Your Wang." The collection includes a t-shirt, hat, bandana, and socks, which are all emblazoned with the awesomely witty phrase. A donation, including some of the proceeds from the collection, will be made to the LGBT Center of New York to support its sexual health programs, and every purchase will come with a co-branded condom designed by Alexander Wang. Designer condoms? Absolutely amazing. Somehow, safe sex has just gotten even cooler. The collection can be shopped on Instagram and at the Alexander Wang flagship store in SoHo, New York City. Pieces range between $45 and $125, which, for an Alexander Wang product, is a steal. The fact that your purchase will support an incredibly important cause only sweetens the deal further.
"Pride has always been one of my favorite moments of the year, and it's even more amazing when you can engage with your friends and fans to share an important message that promotes wellness within the LGBTQ community," said Alexander Wang in a press release. "Partnering with Trojan to bring the 'ProtectYourWang' collection to life has been an inspiring way to create products that have further purpose in supporting initiatives we are both passionate about."
Indeed, Trojan has a history of supporting incredibly important sexual health initiatives. The company has long-standing partnerships with the National Coalition of STD Directors and Advocates for Youth, which both help provide sexual health resources inclusive of the LGBTQ community. As put within the press release, "These ongoing initiatives, along with the 'Protect Your Wang' campaign, offer a reminder that condoms are one of the best methods of protection against STIs and can be used in conjunction with PrEP, which only protects against HIV and not other STIs."
Wang has also designed a one-of-a-kind "Protect Your Wang" float for the second year in a row, which will be a part of New York City's annual Pride Parade, happening this Sunday, June 24. "The experience takes on familiar references of an industrial gym while elevating a sense of strength and protection – I can't wait for everyone to see it on the streets of New York," said Wang in the press release. Along the way, Wang and 200 members of the #WangSquad will be handing out "Protect Your Wang" Trojan condoms.
"We're excited and honored to be continuing our partnership with Alexander Wang in mutual support of the LGBTQ community," Trojan Brand Director Stephanie Berez said in a press release. "The 'ProtectYourWang' campaign amplifies an undeniably clever public health message within a purpose-driven initiative that celebrates Pride, supports inclusivity, and provides resources that improve sexual health for all people."
Fashion for good is real, and it's such a beautiful thing! Let's support the designers who leverage their platforms to affect positive change and hope that other brands will follow suit. I cannot wait to wear my Wang shirt around and see the laughs and inquiries it elicits from passersby. I'll feel proud knowing that my purchase supported LGBTQ-inclusive sexual health initiatives, is helping to continue the conversation surrounding safe sex, and is giving people a good chuckle along the way.